Hong Kong Bookseller Lee Confesses to Sneaking Into China
by
Lee says he has decided to give up British residency

Hong Kong police met Lee in unidentified Chinese guesthouse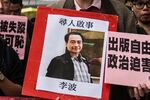 A Hong Kong bookseller suspected of being kidnapped from the city by Chinese authorities has appeared on television, saying he clandestinely traveled to the mainland to avoid raising attention to assist police with an investigation of his colleagues.
Lee Bo, also known as Lee Po, is one of five men detained in China who are linked to a Hong Kong bookstore and its parent company Mighty Current that sell books critical of the Communist Party elite. Lee vanished from Hong Kong in late December, sparking allegations he had been abducted. Chinese police confirmed he was on the mainland in January, without explaining how he crossed the border without travel documents or passing through Hong Kong immigration.
QuickTake Hong Kong's Autonomy
"After what happened to Mighty Current, I wanted to secretly go to the mainland to resolve whatever issues there were with the company and then secretly go back to Hong Kong," Lee said in an interview on Hong Kong-based Phoenix Television. "I came to the mainland to assist with the judicial investigation, and I had to incriminate some people. I was really scared that if these people found out, they would cause harm to me and my family."
China's Encroachment
The disappearance of the booksellers fanned concerns in Hong Kong about China's encroachment on the city's autonomy supposedly guaranteed to the former British colony under the "One Country, Two Systems" principle hammered out when it was returned to China in 1997. The cases have also garnered international attention because Lee holds a British passport and another of the missing, Gui Minhai, has Swedish nationality, with both of those governments pressuring China for information on the men.
Gui, disappeared from Thailand in October. He re-emerged in China in January saying in a televised confession that he had voluntarily turned himself into authorities over a fatal 2004 traffic accident. Gui appeared on Beijing-backed Phoenix TV on Sunday, with a new confession. He said that he had avoided rules on importing books into China, partly by changing their covers and putting them in dark nylon bags to evade X-rays.
The U.K. government has been pressing China for information about Lee and said this month it suspected he was "involuntarily removed" from Hong Kong in what it called a threat to the city's autonomy.
U.K. Passport
In the Phoenix TV interview, Lee said he decided to give up the passport. "A lot of people also made a huge fuss with the issue of U.K. residency, and it has become complicated," he said. "Therefore, I have decided to give up my right to reside in the U.K."
Phoenix TV reported that Gui had allegedly ordered his three associates -- Lui Por, Lam Wing-kee and Cheung Chi-ping -- to mail 4,000 of the books, which are banned in China, to 380 buyers across 28 cities and provinces on the mainland since October 2014. Lui, Lam and Cheung could be granted bail pending trial and return to Hong Kong soon due to their "good attitude," according to the Phoenix TV report.
"Not many Hong Kong people are going to believe Lee smuggled himself over the border," said David Zweig, professor of political science at the Hong Kong University of Science and Technology. Zweig said the credibility of Lee's confession was undermined by Gui's Sunday broadcast where he admitted to illegally importing books into China, contradicting an earlier televised confession where he said he returned to China because he felt bad about the 2004 traffic accident.
Lee also met with Hong Kong police on Monday for the first time since his disappearance at an unidentified guesthouse, according to a statement on the Hong Kong Police Force website. Lee told them he had gone to the mainland with the assistance of friends, that he was helping with an investigation into Gui, and would return to Hong Kong when the matter was resolved. Lee asked the police to cancel their investigation into his disappearance, and not to make his location in China public.
Hong Kong police first requested that mainland authorities allow them access to Lee at the beginning of January. Hong Kong's Chief Executive Leung Chun-ying said Jan. 4 that only the city's law enforcement agencies had the right to enforce the law in Hong Kong. The police said they would "follow through" with the case.
Before it's here, it's on the Bloomberg Terminal.
LEARN MORE