Cote's Elephant Gun Signals Honeywell Appetite for Megadeals
by
Failed bid for United Technologies suggests game-plan change

Annual Wall Street presentation looms after merger faltered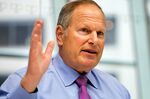 Honeywell International Inc. Chief Executive Officer Dave Cote said three years ago that he gets queasy thinking about acquisitions of more than $1 billion. Now, it's his investors who may be getting uncomfortable after Cote pursued -- and then abandoned -- a $90 billion merger with rival United Technologies Corp.
"They've now opened up that realm of possibility that a big deal is on their wish list," said Deane Dray, an analyst with RBC Capital Markets., who spoke before Honeywell dropped its bid. "The genie is out of the bottle, and you can't put it back in."
Honeywell, which makes a wide range of goods from cockpit controls to thermostats, had offered $108 a share to acquire United Technologies, which on Friday rejected the bid as "grossly" undervalued. On Tuesday, citing resistance from United Technologies management, Honeywell said it would no longer seek a deal.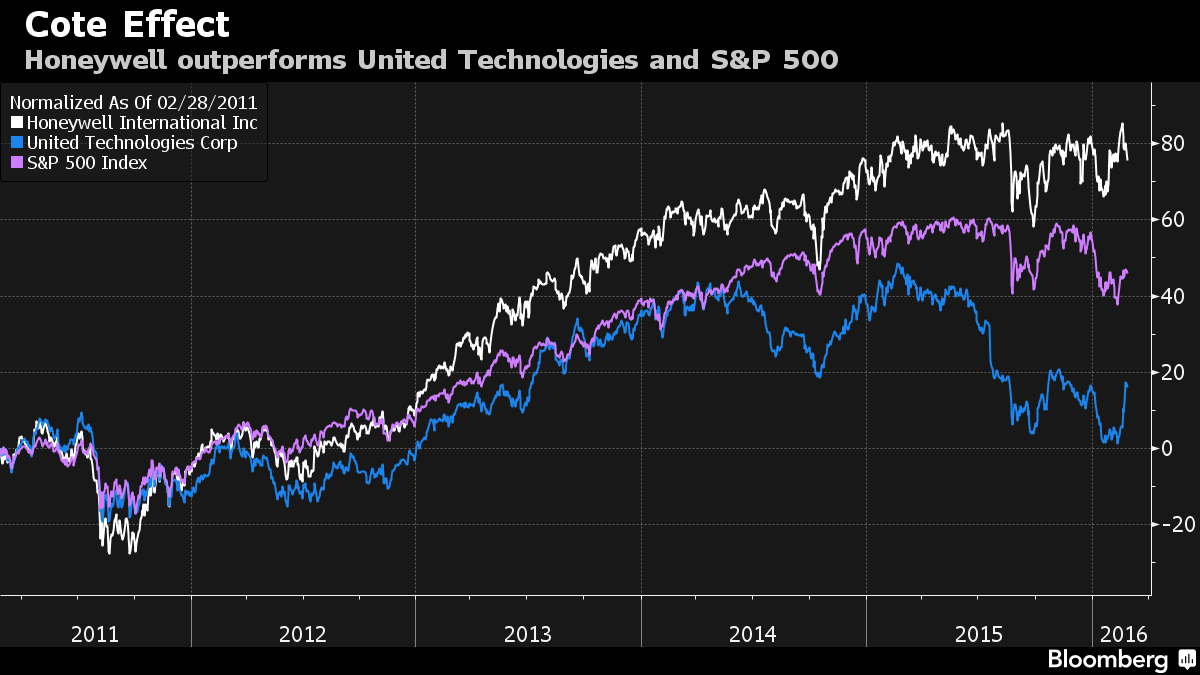 Cote will have an opportunity to explain Honeywell's strategy on Wednesday at the company's annual investor conference in New York. Honeywell executives are expected to stick to a script extolling an efficiency system and software prowess that's enabled a steady expansion of profit margins. But investors will want to hear why Cote evolved from a successful game plan of driving efficiency and making small acquisitions to attempting the largest-ever merger of industrial companies.

Safe Bet
At risk is Cote's effort to retain investors who have increasingly come to see Honeywell as a safe bet to deliver on earnings amid subpar U.S. economic growth. Investors may re-evaluate the stock now that Cote's acquisition appetite has ballooned from last year's $5.1 billion purchase of Elster, his largest-ever deal.
"Bringing out the elephant gun here is quite unnerving," said Todd Lowenstein, a research director at Highmark Capital Management, which owns shares of Honeywell and United Technologies. "You don't do this deal if you have great top-line growth prospects and the world is doing well."
Lowenstein spoke while the bid was still on the table.
There are plenty of other large targets for Cote to hunt, although they're not the size of United Technologies, said Jeffrey Sprague, an analyst with Vertical Research Partners, in an earlier report. Honeywell had sales of $38.6 billion last year. United Technologies, a producer of jet engines, elevators and air conditioners, took in $55.7 billion.
Sprague cited Ingersoll-Rand Plc, which makes Trane air conditioners, and W.R. Grace & Co., which fits with the Honeywell unit that supplies refineries.
GE Stint


Before he took over Honeywell in 2002, Cote, 63, had run General Electric Co.'s appliance business and was among early candidates to succeed the legendary Jack Welch as CEO. At Honeywell, he inherited a tattered company that routinely missed profit promises. The manufacturer was still reeling from a botched merger with Allied Signal and the European Union's rejection of GE's acquisition of Honeywell in 2001.
A decade after Cote began inculcating a culture of efficiency and new-product development, selling unprofitable businesses and adding others, the Honeywell turnaround was in full swing. In the past five years, average net income growth of 26.5 percent has outpaced well-regarded competitors including 3M Co. and Danaher Corp. Since 2012, Cote has been clamoring for the same premium valuation of those peers.
Buybacks, Dividends
Honeywell's share price, for example, is about 15.6 times earnings estimates for the next 12 months, trailing price-earnings ratios of 19.2 times for 3M and Danaher's 18.3. United Technologies has a P/E of 14.9 times. Honeywell investors have fared well, with the shares gaining 76 percent in the past five years, while the Standard & Poor's 500 Index rose 46 percent and United Technologies gained 16 percent.
Last year, Cote responded to investor concerns that Honeywell was accumulating too much cash by spending more than $6 billion to buy companies and returning an additional $3.7 billion to shareholders through buybacks and dividends. He also has sought to address questions about slow sales growth by investing in new products such as aircraft satellite Internet and environmentally friendly refrigerants.
He also had something else up his sleeve. Until last week, investors weren't aware that Cote had been in talks since April with United Technologies Chief Executive Officer Greg Hayes about merging the two companies.
"They've always had the firepower of doing a big deal," said Jonathan Wright, an analyst with Nomura Securities International.
Before it's here, it's on the Bloomberg Terminal.
LEARN MORE