Here's What Executives Are Saying About Trump and the 2016 Race
by and
`Terrible thing to say, but bring it on Donald,' Moonves says

`Democrats are going to spend heavy,' Scripps' Lawlor says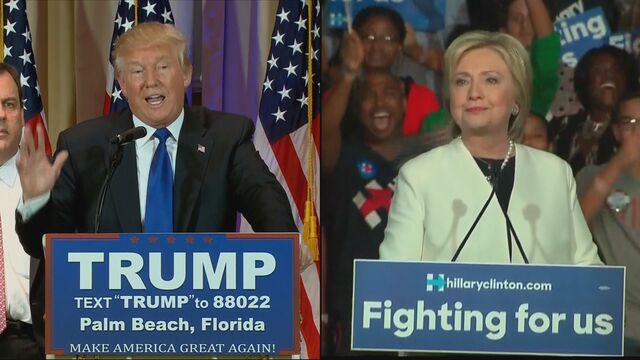 As goes the water cooler, so goes the executive suite. With Super Tuesday looming, analysts and investors are asking leaders of U.S. companies how business could be affected by the presidential race and a new chief executive in 2017. These comments were collected by Bloomberg from earnings calls, meetings and conferences in February.
Les Moonves, chairman and chief executive officer, CBS Corp.:
"Most of the ads are not about issues, they're sort of like the debates. They're saying, 'He did this or he did that.' Nobody is saying what I stand for. I've never seen anything like this and this is going to be a very good year for us. I'm sorry, it's a terrible thing to say, but bring it on Donald. Go ahead, keep going. I said that at another investor conference and the next day some blog put out 'Moonves supporting Trump whole heartedly.' I said no, no, no, I'm not taking any sides, I'm just saying for us, economically, Donald's place in this election is a good thing. (Feb. 29)
Brian Lawlor, senior vice president of television, EW Scripps Co.:
"Trump is an interesting dynamic. He's obviously spent less right now than some of the others. And it remains to be seen what he will spend by himself. What we do know is that Democrats are going to spend heavy." (Feb. 26)
Gary Lauer, CEO, eHealth Inc.:
"If Bernie Sanders is elected president, there may be a lot more Medicare for us to go after, because his solution to health care is Medicare for all." (Feb. 26)
Thomas O'Malley, chairman, PBF Energy Inc.:
"Pharmaceuticals, obviously, are afraid of Bernie Sanders eventually being elected. It will be a rush -- if he is elected -- to the exit doors of the United States." (Feb. 11)
Michael Fifer, CEO, Sturm Ruger & Co.:
"I think we'll see a step-up of demand if a Democrat wins the election. And particularly so if they win the Senate, because in spite of whether President Obama is successful in appointing a new Supreme Court justice, more than likely -- based on age and health -- the next president will get several opportunities, and that could drive concern about gun rights." (Feb. 26)
Charles Munger, vice chairman, Berkshire Hathaway Inc.
On Trump: "My attitude is that anybody who makes money running a casino is not morally qualified."
On Sanders: "I don't think he's any worse than some of our Republicans. But at least they're crazy in a different way." (Feb. 10)
Richard Gelfond, chairman, IMAX Corp.:
"I went to the Marco Rubio School of unscripted answers, so I am ready for you." (Feb. 23)
Before it's here, it's on the Bloomberg Terminal.
LEARN MORE