Photographer: Brand X Pictures via Getty Images
A cocktail of record central bank stimulus and unprecedented immigration is helping fuel the biggest Swedish economic boom in five years.
The economy expanded an impressive 4.5 percent on an annual basis in the fourth quarter -- the most in almost five years. That's more than twice the growth of neighboring Germany which, like Sweden, relies on exports to Europe for much of its prosperity.
The central bank last month cut its main lending rate to a record-low of minus 0.5 percent --- marking more than a year of negative rates for the Nordic region's largest economy.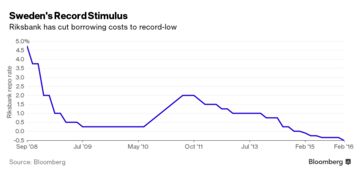 Low interest rates have boosted consumer spending and borrowing, with house prices rising to new all-time highs. Unemployment is also finally falling as the government is boosting spending on welfare and caring for a record-surge of asylum seekers from war-torn countries like Syria, Iraq and Afghanistan.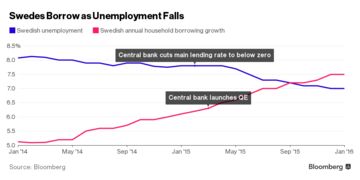 To house all the new arrivals, Sweden last year started building more homes than at any time since 2006. Prime Minister Stefan Loefven says the pace needs to pick up even more over the next decade if the country is to optimize growth through better mobility.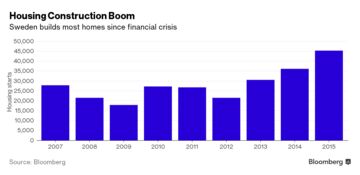 And the last piece of the puzzle is also finally falling into place, with exports ending the year at their fastest pace in 19 quarters. The Riksbank's efforts to keep the krona under check are no doubt playing a part.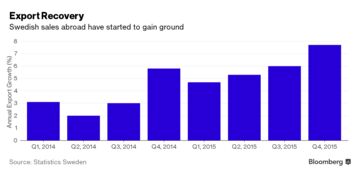 Now all Sweden has to hope for is that the global economy doesn't hop off the tracks, its housing market doesn't go bust or that its overwhelmed by another surge in refugees. 
Before it's here, it's on the Bloomberg Terminal.
LEARN MORE