E*Trade Whacks Harvey Keitel's Suit Over Canceled Ad Deal
by
Actor sued online brokerage in June over deal for commercials

Judge said offer wasn't binding without written agreement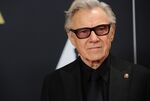 Get it in writing. Winston Wolfe, the fixer in "Pulp Fiction," would have known that.
Harvey Keitel, who played Wolfe in Quentin Tarantino's 1994 film, found out the hard way on Tuesday when a New York state judge threw out his lawsuit accusing E*Trade Financial Corp. of reneging on a $1.5 million deal to feature him in an advertising campaign.
Keitel sued the online brokerage in June, alleging it backed off of a 2014 agreement to feature him in a series of television ads and instead offered him a "kill fee" of $150,000. The company ran a campaign that year featuring "House of Cards" star Kevin Spacey.
Justice Charles Ramos in Manhattan granted E*Trade's request to throw out the suit, saying that while a cover letter on the offer sent to Keitel said the terms were "firm and binding," a proposed contract made it clear that neither party was bound by the agreement.
"There was nothing in writing," Ramos said. "There was nothing binding."
Hollywood v. New York
E*Trade had argued in court papers that it considered several actors for the role and decided to move in a different direction after Keitel's agent suggested that the company hire Ridley Scott, director of "Alien" and "Blade Runner," for the campaign and provide rehearsal time. E*Trade said this would have "radically increased" the cost of the campaign.
Victor Bushell, an attorney for Keitel, told Ramos that it's standard industry practice to proceed on projects without a written contract, especially given tight filming schedules. The judge wasn't buying it.
"The culture that pervades Hollywood and the entertainment industry doesn't substitute for the law of the state of New York," Ramos said.
Bushell said an appeal was likely. 
E*Trade shares rose $1.38, or 5.9 percent, to $24.84 at 3:09 p.m. in New York after rising as much as 6.3 percent earlier in the day. They had fallen 21 percent so far this year.
The case is Keitel v. E*Trade Financial Corp., 652220/2015, New York State Supreme Court, New York County (Manhattan).
Before it's here, it's on the Bloomberg Terminal.
LEARN MORE