Iran's Biggest Parliament Shakeup in Decade: Guide to Who Won
by
Conservatives, top leader remain constraints on Rouhani power

Pre-poll alliance agrees on economy, not on greater democracy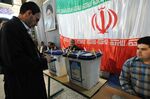 Unconfirmed results from last week's elections in Iran show growing support for allies of President Hassan Rouhani, and a setback for rival conservatives who have dominated parliament for a decade. Yet the absence of distinct parties in Iranian politics makes a clear reading of where power now lies difficult.
Here's an overview of what we know, and what it means for foreign companies considering investing in an economy recovering from global sanctions.
Big win for reformers and moderates
An alliance of so-called reformist and moderate lawmakers supportive of Rouhani's bid to reintegrate Iran into the world economy is set to replace conservatives as the largest bloc in the 290-seat parliament, without securing a majority.
In the biggest breakthrough, the coalition seized all 30 parliamentary seats up for grabs in Tehran constituencies on Feb. 26. Its candidates also accounted for 15 of the 16 clerics the capital elects to the Assembly of Experts, a body that picks the supreme leader, currently Ayatollah Ali Khamenei, 76.

The elimination of hardliners who opposed Rouhani's nuclear diplomacy and engagement with the international community was also significant. Still, the president's conservative rivals are set to retain close to 80 members in parliament, and remain in control of the powerful judiciary. Above them all sits Khamenei, Iran's ultimate arbiter.
"It's a symbolic victory for Rouhani," said Suzanne Maloney, an Iran scholar at the Brookings Institution in Washington. "What it translates to in practice we don't know yet. Potential fallout from this is that expectations rise only further on a president who has limited authority and has strong political rivals."
No parties, lots of recounts

Complicating any reading of the election is the absence of clearly defined political parties. Most candidates are though aligned with blocs, with the two biggest being the Reformist and Principlist, or conservative, camps.
"We are not looking at political parties with published platforms," said Mehran Kamrava, director of the Center for International and Regional Studies at Georgetown University's School of Foreign Service in Qatar. "Factions coalesce around specific issues."

Adding to the confusion, the allegiance of as many as 60 independent parliamentarians is hard to predict, while a second round of voting will be needed in dozens of races where no candidate won 25 percent of votes.
How do moderates and reformists differ?
Moderates are pragmatists who backed last year's nuclear deal that removed sanctions and mostly agree with Rouhani that Iran will only be able to build a prosperous economy with substantial foreign investment. Reformists support that thrust but also advocate for greater democracy and civil liberties in a society regulated by clerics since the 1979 revolution.
Maloney expects their alliance to stick together on an economic program. But the presence in parliament of top reformists such as Mohammad Reza Aref could pressure Rouhani to move on "political liberalization or addressing the status of political prisoners in a way that the moderate conservatives" historically don't support, she said.
What's the history of Iran's reformers?
The reform movement came to prominence with the 1997 election of President Mohammad Khatami, who stressed political and social tolerance and accountability in government. During his eight-year presidency, there was unprecedented media debate over Iran's future and greater engagement with the West.
Conservatives, especially in the judiciary, responded by shutting newspapers and targeting intellectuals and student activists. Khatami, wary of confrontation, sought to temper expectations rather than rise to the challenge as some of his supporters demanded, triggering disillusionment.
Reformists were further sidelined following 2009 protests against the allegedly fraudulent re-election of Khatami's successor, Mahmoud Ahmadinejad. Their leaders were placed under house arrest, while activists were silenced by gag orders or forced into exile.
Many reformists were barred from contesting last week's polls by the conservative Guardian Council. Those who did make it through the vetting process formed the coalition with moderates, continuing a strategy that led to Rouhani's 2013 presidential victory.
They learned that "open confrontation" isn't "the way to go," said Mehrzad Boroujerdi, a professor of political science at Syracuse University in the U.S. "Bringing millions of people to the streets is not the way to proceed because the cost will go up tremendously as conservatives no doubt will engage in counter moves."
What drives the conservative factions?
Conservatives, or Principlists, generally favor strict adherence to the tenets of the Islamic Republic. They call for obedience to the supreme leader as both a spiritual guide and the ultimate political decision-maker. They have a deep-seated distrust of the West, in particular the U.S., which they see as seeking to end the theocracy.
They have opposed "opening to the West and furthering cooperation in the global economy, perhaps thinking that their position will be undermined or that there is going to be a cascading effect of further demands," said Boroujerdi.
Before it's here, it's on the Bloomberg Terminal.
LEARN MORE