Gold's Big Three Stay Disciplined After 2016's Surprise Windfall
by
Barrick, Newmont, Goldcorp focus on debt, internal projects

Bullion's 17 percent rally this year adds to cash flow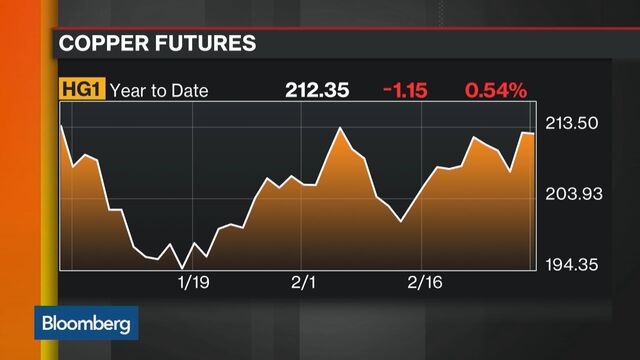 Gold's 2016 surge isn't leading the three biggest producers down the tempting road of acquisitions. At least, not yet.
The heads of Newmont Mining Corp., Goldcorp Inc. and the president of Barrick Gold Corp. all but brushed off the idea of imminent asset purchases during interviews at an industry conference on Monday. While bullion's rally is improving free-cash flow, the miners are staying focused on paying down debt and developing internal projects.
Goldcorp's Chief Executive Officer David Garofalo is switching his focus to developing internal projects, after saying as recently as January that the company could grow by expanding in Africa or Europe. Barrick President Kelvin Dushnisky said the company was not yet ready to transition to buying as it continues to focus on selling some non-core assets and reducing its debt. While Newmont CEO Gary Goldberg didn't dismiss the idea of acquisitions, he said any deals would have to provide long-term value.
"There will be a point in time when we move from being purely defensive, and be opportunistic and go on the offense, but we're not impatient," Barrick's Dushnisky said in an interview on Bloomberg Television. He, Garofalo and Goldberg spoke from Hollywood, Florida, where more than 1,000 executives, analysts and investors are attending the BMO Capital Markets Global Metals & Mining Conference.
Gold companies are staying diligent after a rough spell. Bullion dropped into a bear market in 2013, dragging miners down with it. The Philadelphia Stock Exchange Gold and Silver Index of shares posted a fifth annual decline in 2015, the worst streak since comparable data begin in 1984. Now, a rebound for bullion prices in 2016 is bringing an unexpected windfall.
Cash Flow
Newmont's Goldberg estimated that every $100 gain per ounce of bullion adds $350 million to the company's free-cash flow, after taxes. The commodity has gained 17 percent in 2016 to about $1,240 an ounce in the spot market.
At "$1,200 or $1,300 an ounce, we still see it as a good price where we can deliver good free-cash flow and dividends back to shareholders," Goldberg said. Buying more assets would depend "on the value of the opportunity, if it makes sense long term," he said.
Goldcorp's Garofalo said that the company would generate $400 million in annual free-cash flow at current gold prices. That drops to $200 million if the metal retreats to $1,100. In a January interview, Garofalo repeatedly mentioned Africa as an attractive possibility. During Monday's television interview, the new CEO maintained that the main focus for the company is the existing pipeline, which consists of eight projects, he said.
"We're generating free-cash flow so we're able to finance projects" in the company's internal pipeline, Garofalo said.

Barrick Executive Chairman John Thornton said in an interview last week that executives have been running through deal scenarios in preparation for the day the company is ready to make purchases. But, he said, it is "nowhere close" to an acquisition.
While Barrick shares have more than doubled from last year's lows, they are still down 66 percent from late-2010 levels. In the past five years, the three companies have lost a combined $68 billion in market value.
"We were on the defensive, if you will, in 2015, and we're moving away from that," Barrick's Dushnisky said Monday. "We're not just going to make an acquisition for the sake of doing an acquisition. We're patient. We'll see."
Before it's here, it's on the Bloomberg Terminal.
LEARN MORE