Glencore Posts Biggest Profit Drop Since IPO on Metals Slump
by
Commodity prices have bottomed, China sales are good: CEO says

A return to dividends is possible next year, CFO Kalmin says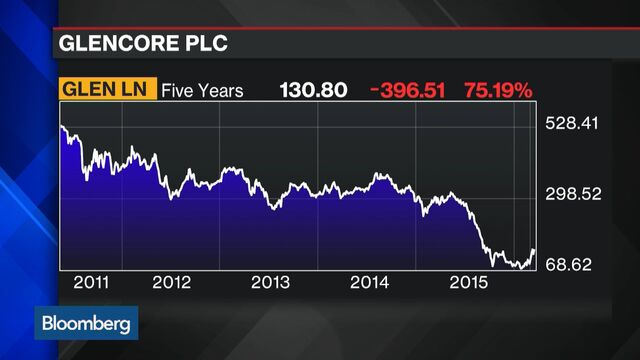 By a lot of measures, 2015 was the worst year for Glencore Plc since the mining and trading giant became a public company.
Net income excluding some items plunged 69 percent to $1.34 billion during the year as prices for metals and oil collapsed, the Baar, Switzerland-based company said in a statement Tuesday. While that beat the $1.17-billion estimate from analysts, the firm suffered an adjusted loss in its mining division and plans to sell as much as $5 billion in assets.
Glencore executives struck an upbeat note on a call with reporters after the results, with Chief Executive Officer Ivan Glasenberg saying commodity prices have bottomed and sales into China are "pretty good." While the company's priority remains reducing its $25.9 billion debt load, a return to dividends is possible next year, Chief Financial Officer Steve Kalmin said.

The shares lost 3 percent to 129.20 pence as of 9:32 a.m. in London. Glencore rallied 43 percent this year as management worked to shore up the balance sheet. Still, the company is still worth about half as much as last year.
The optimistic tone from Glencore's executives today contrasts with the current environment, one of the bleakest for mining companies in recent history. Profits across the industry are evaporating as copper, nickel, zinc and iron-ore prices plunge because of gluts and slowing demand from China, the biggest customer.
To weather the commodities collapse, Glencore wants to reduce debt to as low as $17 billion by scrapping its dividend, cutting costs and selling assets and new shares. It plans to complete a sale of its agriculture unit in the first half. Rival producers including Anglo American Plc have taken similar steps.
"All on eyes on the second quarter for asset sales," Ben Davis, a mining analyst at Liberum Capital Ltd. in London, said by e-mail. "It puts Anglo American to shame at the rate Glencore gets the important work done."
For the full year, Glencore had a net loss of $4.96 billion, compared with profit of $2.3 billion in 2014. Net debt fell to $25.9 billion from $30.5 billion, missing its target of about $25 billion.

The commodities slump means Glencore now generates most of its cash from trading as its mines and smelters around the globe struggle for profitability.
Adjusted earnings before interest and tax from the trading division was $2.46 billion, compared with the company's forecast of $2.5 billion and $2.79 billion in the previous year. The mining unit swung to a loss of $292 million from a profit $3.9 billion in 2014.
"Financial market sentiment weakened considerably during the course of 2015 amid concerns over slowing economic growth," Glasenberg said in the statement. "The commodity sector was particularly adversely affected by a succession of disappointing China macroeconomic data, declining oil prices, and the strong U.S. dollar."
"As a result, sector focus quickly switched from cash distribution to balance sheet concerns and cash preservation," he said.
Peter Grauer, the chairman of Bloomberg LP, is a senior independent non-executive director at Glencore.
Before it's here, it's on the Bloomberg Terminal.
LEARN MORE