German Fintech Industry Poised for Growth in Challenge to Banks
by
About 250 fintech companies employ 13,000 people in Germany

Investment volume seen rising to 2 billion euros by 2020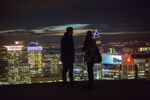 Germany's nascent financial-technology industry is poised to surge in the coming years, closing the gap to the U.K. and other global centers, as startups continue their onslaught on banks and financial services, according to a study by Ernst & Young LLP published on Tuesday.
The volume of investment in the industry will probably quadruple to 2 billion euros ($2.2 billion) in the next five years, said Hubertus Vaeth, managing director of Frankfurt Main Finance, a group representing Frankfurt's financial community that commissioned the study. The number of fintech employees is expected to double to 26,000, he said.
Germany, with fintech hubs in Frankfurt, Berlin and Munich, currently ranks second in Europe behind the U.K. The 2.4 billion-euro market drew 524 million euros in investment funding last year, compared with 707 million euros in the U.K., which is almost four times the size, according to the study. The region around Frankfurt, home to Deutsche Bank AG, Commerzbank AG and Deutsche Boerse AG, is growing at almost twice the rate of the rest of Germany, with the number of startups climbing 22 percent compared with 13 percent nationwide.
"The eco system is starting to take hold," said Jan-Erik Behrens, an executive director at Ernst & Young in Eschborn, near Frankfurt. He is one of the study's authors.
While Frankfurt risks losing business to London if a planned merger between Deutsche Boerse and London Stock Exchange Group Plc is completed, the market for fintechs is only getting started, Vaeth said. "The race to catch up has begun."
Before it's here, it's on the Bloomberg Terminal.
LEARN MORE