EU's Push to Streamline Rules Would Help Britain, Katainen Says
by and
U.K. would be stronger if voters choose to stay in the bloc

Katainen says single-market push adds to appeal of `fair deal'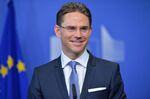 The European Union's efforts to bolster its common market will strengthen British Prime Minister David Cameron's case to keep the U.K. in the 28-nation bloc, EU Commission Vice President Jyrki Katainen said.
The EU is liberalizing its regulations to create a better single market that will foster growth, Katainen said in an interview on Monday in New York. The EU is seeking to create a better business environment by improving energy markets, broadening e-commerce opportunities and by pursuing negotiations on 27 current trade agreements, he said.
"We are doing, already now, lots of things which are important for British voters," Katainen said. "Europe would be stronger if British voters decided to stay in the EU, and also we firmly believe that the U.K. would be stronger if they were a part of the European family."
British voters will decide on June 23 whether to stay in the EU or to begin a complicated process of secession from the European project. Cameron secured concessions from his EU counterparts last month -- including curbs on welfare for non-British citizens, measures to block unwanted regulation and a U.K. exemption from the bloc's goal of an "ever closer union" -- which could smooth the path for an ongoing economic union.
Euro Stability
European finance ministers and central bankers from the Group of 20 nations were right to point out the uncertainty that a "Brexit" would add to pressures on a global economy that's already buffeted other headwinds, Katainen said, referring to a British exit.
"I believe that the fair deal which we managed to reach together with the British government is very good for British voters," Katainen said.
Katainen also defended the euro, used by 19 EU nations, against charges that it might be holding back economic growth. Euro-area nations are mostly dealing with structural difficulties that need fixing, rather than limitations imposed by the single currency, he said.
For example, Finland's low growth is "clearly structural," said Katainen, a former Finnish prime minister. Its dependence on foreign demand has meant it's been affected by an international economic downturn, and it also needs to address its aging population and transform its industrial base, he said.
"The euro has been the most stable currency of Finland ever," Katainen said. "The euro is not the reason for the current challenges."
Before it's here, it's on the Bloomberg Terminal.
LEARN MORE