Communist Party Warns Outspoken Members With Tycoon's Punishment
Bloomberg News
Ex-developer Ren to face `serious' discipline for Web comments

Message comes as leaders gather for National People's Congress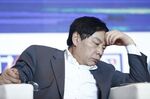 Communist Party officials in Beijing have pledged to "seriously punish" a retired property developer who criticized President Xi Jinping's state media clampdown, urging other party members to learn from his example. 
Former Huayuan Property Co. Chairman Ren Zhiqiang "constantly issued illegal information and wrong opinions on the Internet, which caused a baneful influence and seriously damaged the image of the party," the party committee in Beijing's Xicheng district said in a statement posted Monday on its Weibo account. Ren, a friend of party discipline chief Wang Qishan, was known for airing outspoken views to his more than 37 million Weibo followers before Internet regulators ordered his social media accounts closed Sunday.
"As a Communist Party member, any comment that is not in line with the party's policy and direction, no matter if published on the Internet or in the media, are not allowed by the party's regulations," said the committee, which represents the district where Huayuan Property is located. Ren stepped down as chairman of the state-owned enterprise in 2014.
Ren didn't respond to a text message seeking comment.
The warning comes after Ren published a post on Feb. 19 criticizing Xi's demand for the state media to "preserve the authority of the party" as conflicting with their duty to the taxpayers who fund their budgets. It also sends a message to top party officials from around the country who are gathering in Beijing this week for the National People's Congress, the one time each year that many of them are accessible to the press.
Since taking control of the party in November 2012, Xi has waged twin campaigns against official corruption and public dissent, punishing more than 100 high-ranking officials for graft and jailing journalists and rights advocates. In October, the Politburo issued regulations saying the party's 88 million members "should not improperly discuss the central leadership's policies and direction and destroy party unity."
Code of Conduct
Days later, a state newspaper editor from China's western province of Xinjiang became the first of several cadres disciplined under the revised code of conduct. In January, the "improper discussion" clause was cited, along with corruption allegations, in the decision to expel former Beijing deputy party chief Lu Xiwen.
While China has been cracking down on influential Web commentators for more than two years, Ren had so far been spared. The former developer told Bloomberg News in an interview last year that he shared frequent phone calls with Wang, who is spearheading Xi's signature anti-corruption campaign, and that the two met a few times a year.
Ren's comments about Xi's media policies appeared to have crossed the line. The following Monday, a news site affiliated with Beijing's municipal party committee published a commentary accusing Ren of spreading "anti-Communist Party" thought. 
The commentary on the site Qianlong included a cryptic comment that appeared to reference Ren's political connections: "For a person like Ren who loves to call leaders in the middle of the night, who gave him the courage to stand out to tear down the wall?" it said.
— With assistance by Keith Zhai
Before it's here, it's on the Bloomberg Terminal.
LEARN MORE