Clock Is Ticking as Spanish Politicians Seek Governing Pact
by
Parliament must choose a premier by May 2 to avoid new ballot

Socialist leader takes first crack at winning confidence vote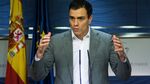 Ten weeks after a general election produced an unprecedented deadlock in parliament, efforts to form a government in Spain are entering a critical phase.
Socialist leader Pedro Sanchez will start the countdown to a fresh ballot when he asks lawmakers to let him lead the next government in a vote on Wednesday. The legislature will then have another two months to find a prime minister before a new election is triggered. With just 90 lawmakers in the 350-seat chamber, and another 40 from his pro-market ally Ciudadanos, he's almost certain to be rejected at the first attempt.
Still, Sanchez is betting that his attempts to find a way out of the impasse will win him credit with voters and put pressure on Acting Prime Minister Mariano Rajoy's People's Party and anti-austerity group Podemos to drop their opposition. Sanchez aims to make the PP and Podemos look like obstacles to the Socialists' efforts to take the country forward, according to Kiko Llaneras, a Madrid-based polling analyst at the research group Politikon.
"Nobody wants to go to elections but if it has to happen everyone wants to go with the best possible political message," said Llaneras. "The polls after the confidence votes will be a key test."
Sixty-five percent of Spaniards would blame politicians for refusing to compromise if the country goes to fresh elections, according to a Metroscopia poll based on 2,400 interviews this month. The margin of error was 2 percentage points. Metroscopia plans to conduct a fresh study next week, as does GAD3 a rival pollster.

New Realities
Spanish politicians are struggling to forge a governing majority after the country's two-party system was swept away by the political fallout from the economic protest.
The country's government bonds have underperformed Italy's over the past year, even though Spain's economy has been growing more than three times as fast. Spain's 10-year debt yields 11 basis points more than Italy's. In April last year it was yielding 8 basis points less.

It's a similar story across the rest of the continent as old certainties are questioned and new challenges strain the bonds holding the European Union together. The U.K. is preparing to vote on whether to leave the 28-nation bloc while Chancellor Angela Merkel faces the biggest challenge of her career as her allies recoil at the flood of refugees into Germany. Ireland is facing its own political stalemate after an election last week.
If Spain's leaders fail to form a government, the election re-run would likely be held on June 26, three days after the "Brexit" referendum.
Socialists' Alliance
Sanchez and Ciudadanos leader Albert Rivera signed an agreement last week that could form the basis of a governing coalition, should they manage to gain the support of other political forces. As well as Pablo Iglesias's Podemos, the Socialists are seeking support from the Basque Nationalist Party, the United Left and a party representing the Canary Islands, Antonio Hernando, who leads the Socialists' parliamentary group, said last week.
King Felipe nominated Sanchez to try to form a government last month after Rajoy refused to face a vote, saying he lacked the necessary support in parliament.
"We are here because we are a responsible party," the Socialists' deputy leader, Cesar Luena, said in an interview with state-owned Television Espanola. "We won't be engaging in any Rajoy-style escapology."
Sanchez will set out his case to parliament at 4:30 p.m. Tuesday. His rivals -- and potential allies -- will explain their positions from 9 a.m. Wednesday before voting later that day. The candidate needs the support of a majority of lawmakers to take office at the first attempt. If, as expected, he falls short, he'll get a second shot 48 hours later when a plurality will suffice.
In an echo of the labor-market rigidities that have hampered executives in Spain and much of Europe during the crisis, negotiations are complicated in Spain by the difficulty of ejecting a government once it's taken office. Unlike in most European countries, a straight no-confidence vote isn't enough to get rid of a prime minister. Instead, opposition parties need to agree on an alternative candidate.
"That legal provision makes it very difficult to bring down a Spanish premier once they've been elected by parliament," said Alberto Dorrego, a partner at Eversheds Nicea law firm in Madrid who was previously a staff lawyer in parliament. "That's a very important factor in all the politicians' heads."
Before it's here, it's on the Bloomberg Terminal.
LEARN MORE