Barclays Plummets as Bank Slashes Dividend in Plan to Shrink
by
Bank plans to cut stake in Africa business for capital benefit

Fourth-quarter profit falls short of analysts' estimates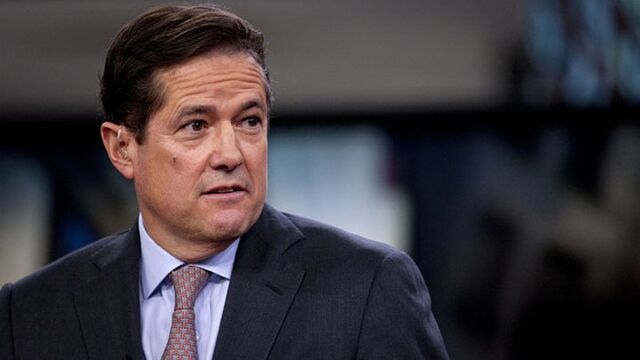 Barclays Plc fell the most in more than three years in London trading as investors balked at Chief Executive Officer Jes Staley's pitch that more short-term pain will be necessary for the bank to right itself.
The lender cut its dividend for the next two years and said costs from its non-core division will rise by as much as 1 billion pounds ($1.39 billion) this year as it accelerates the unit's wind-down, according to a statement Tuesday. The shares plummeted 8.1 percent to close at 158.1 pence in London, the most since June 2012. The stock has dropped 28 percent this year, more than any other large U.K. lender.
Staley becomes the latest head of a European bank to pare back his firm's scope and further shrink the balance sheet to bolster returns and reverse a declining share price. The CEO, who started in December, is reducing the firm's stake in its Africa unit and exiting more businesses to boost capital while sparing the investment bank from major cuts.
"The slightly worrying thing is that management now thinks they need more capital, which indicates there are more fines to come and confidence in earnings might not be as strong," said Alan Beaney, investment director at RC Brown Investment Management Plc, which owns Barclays shares. "We obviously don't like that they cut their dividend, but I think they're doing the right thing."
The company reduced its dividend to 3 pence per share for 2016 and 2017, from 6.5 pence last year. It also will sell down its 62 percent stake in Barclays Africa Group Ltd. over the next two to three years to a level that allows it to deconsolidate the unit. The measures will boost the firm's common equity Tier 1 ratio by at least 1 percentage point from its 11.4 percent at the end of 2015.
'Acutely Aware'
Reducing the dividend took many investors by surprise, and Staley said the bank will get back to paying out a "significant" percentage of profits in 2018.
"We are acutely aware of our shareholders being tired at the time it's taken to restructure Barclays," Staley, 59, said in a meeting with reporters. "Holding the dividend back was not taken lightly; it's because we have to end the restructuring. It's critically important to our shareholders, it's critically important if we are going to get our stock above book value."

Trading in the stock was temporarily halted as the shares dropped as much as 11 percent. Analysts at the presentation questioned Staley on his outlook for profit and capital as he maintained that the bank's future is "bright."
"Look at your stock price, and what it is telling you is, no one is believing your 'jam tomorrow' capital story," Chintan Joshi, a bank analyst at Nomura Holdings Inc., told Staley.
Fourth-quarter adjusted pretax profit, including restructuring costs, fell 56 percent to 247 million pounds, according to the filing. That missed the 519 million-pound average estimate of five analysts surveyed by Bloomberg.
'Shortsighted' Move
The investment bank swung to its first quarterly loss in at least two years, hurt by a drop in equities revenue, and Finance Director Tushar Morzaria cautioned performance would be worse in the first quarter compared with last year. Staley said while the unit doesn't generate sufficient returns, calls to exit the business are "shortsighted" because it serves as a "cyclical counterweight" to the consumer business.
"The investment bank doesn't look like it's getting any smaller; if everything else falls away, then as part of the total it actually becomes bigger again," David Moss, head of European equities at BMO Global Asset Management. "Staley says he's not happy with the returns but gave no indication of how he's going to improve them."
Deutsche Bank AG and Credit Suisse Group AG, who both have dropped more than 27 percent this year, have announced major reductions in their securities units. Deutsche Bank has laid out a plan to cut as much as half of its trading and investment-banking clients, while Credit Suisse accelerated staff reductions amid volatile markets and worse-than-expected fourth-quarter results.
Non-Core Assets
Barclays's strategy didn't feature any significant additional cuts to the investment bank, disappointing some investors who had viewed that as a way to boost capital in place of cutting the dividend.
"Note to the board: don't cut the dividend (again) without ample signalling beforehand," wrote Sandy Chen, a bank analyst at Cenkos Securities Plc. "Note to the CEO: don't defend the investment bank, on the hope that its profitability will beat its cost of capital again. And the argument that investment banking and retail banking cycles would counter-balance each other was met with skepticism – that's not how we remember the subprime crisis."
The company added 8 billion pounds of risk-weighted assets to its non-core division, bringing the total to 55 billion pounds, and said it will speed up divestment of assets in that unit to reach 20 billion pounds by 2017. The businesses being transferred to non-core are wealth-management units in Asia and the Americas, units in at least nine countries including Egypt and Zimbabwe, and certain product lines in the investment bank.
New Divisions
Staley also unveiled a new structure for the lender, splitting it into two divisions to comply with U.K. law requiring the separation of banks' consumer and investment-banking arms by 2019. The so-called U.K. ringfenced retail bank will have about 70 billion of risk-weighted assets, whereas the non-ringfenced business, called Barclays Corporate and International, is almost three times as large with about 195 billion pounds of assets, according to the statement. It will house the investment bank, most of the wealth management unit, and the U.S. and international cards businesses.
The African business had 9.5 percent of the bank's risk-weighted assets at the end of 2015. Barclays has operated in the continent for almost a century and its stake in Johannesburg-based Barclays Africa Group Ltd. was built up under former CEOs John Varley and Robert Diamond. The U.K. lender would like to hold a minority stake in the business, Staley said.
Barclays's options for its Africa stake include a strategic sale or private placements into the secondary market, Morzaria said on the call with analysts today. Barclays will see the capital benefit when the business is deconsolidated by regulators, likely once the stake is reduced to less than 20 percent, though there is no hard level, he said.

The bank also softened its financial guidance. The bank is now aiming for a return that is "attractive" to shareholders and "double-digit" return on tangible equity in both of its core divisions. It previously targeted an 11 percent return on equity for this year. Return on equity fell to negative 1.6 percent in the fourth quarter from 1.5 percent a year earlier.
The bank is now aiming for a cost-income ratio of "below 60," softening the previous "mid-50s" target, and made a new commitment to maintain the group's CET1 ratio at 100 to 150 basis points more than the minimum level demanded by regulators.
"We would have hoped for more scaling back at the investment bank, but it is pleasing to see the capital build," Paul Dilworth, an investment manager at Kames Capital Plc, an Edinburgh-based fixed-income firm that oversees about 55 billion pounds including Barclays bonds. "It's just all about the delivery now. And that comes down to your view of the management team: I feel quite constructive, but clearly some equity investors don't."
Before it's here, it's on the Bloomberg Terminal.
LEARN MORE