Five Things You Need to Know to Start Your Day
Get caught up on what's moving markets
by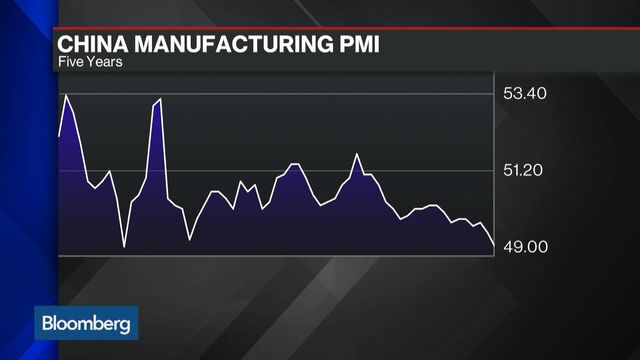 Chinese manufacturing data disappoint, Barclays shares plummet, and it's Super Tuesday. Here are some of the things people in markets are talking about today.
Chinese slowdown
China's slowdown is deepening with the manufacturing Purchasing Managers Index dropping to 49 in February, the lowest since 2009 while the services gauge dropped to 52.7 from 53.5 in January, the weakest reading in seven years. The Shanghai Composite Index shrugged off the disappointing PMIs to close 1.7 percent higher in the first trading session since the PBOC announced it was reducing the reserves lenders are required to hold. 
Barclays plummets
Shares in Barclays Plc fell as much as 11 percent in London trading this morning after the lender announced it was slashing its dividend and reducing its stake in its Africa unit in an attempt to shrink the bank and build capital ratios. Barclays also announced that it had identified potential money-laundering activities at its South African business, where it is also subject to a wider investigation over whether banks including Barclays colluded to rig the rand. Shares were trading 10.7 percent lower at 10:55 a.m. London time.
Super Tuesday
Voting is getting underway in the 12 U.S. states that are holding primaries or caucuses today, with predictions showing it could be a very good day for Donald Trump's drive to become the Republican nominee while Hillary Clinton is looking strongest on the Democratic side. Bloomberg Politics will have full coverage of the results as they roll in.
Glencore
Glencore Plc reported net income excluding some items fell 69 percent to $1.34 billion in 2015, as the company announced its biggest drop in profits since its IPO. Glencore was only able to report that profit due to the performance of its trading division; the mining division, as expected, made a loss. The company said that it planned to reinstate its dividend in 2017, once it has strengthened its balance sheet. Glencore shares were 2.9 percent lower at 11:20 a.m. in London.
Negative yields
Japan sold 10-year debt with a negative yield for the first time as the bond market there continues to react to the Bank of Japan's announcement of negative rates at the end of January. In Europe, yields on German debt remain negative out to eight years with Spanish and Italian debt yields falling this morning. Former Federal Reserve Chairman Alan Greenspan warned in a interview on Bloomberg Television that negative interest rates - if pursued for an extended period of time - will eventually distort saving and investment.
What we've been reading 
This is what's caught our eye over the last 24 hours.
Want to receive this post, and more, into your inbox every morning? Sign up here
Before it's here, it's on the Bloomberg Terminal.
LEARN MORE