U.S. Stocks Climb With Oil While Treasuries Fall After Jobs Data
By and
Improved U.S. outlook boosts bets on Fed rate-hike path

Crude settles at eight-week high after U.S. gasoline data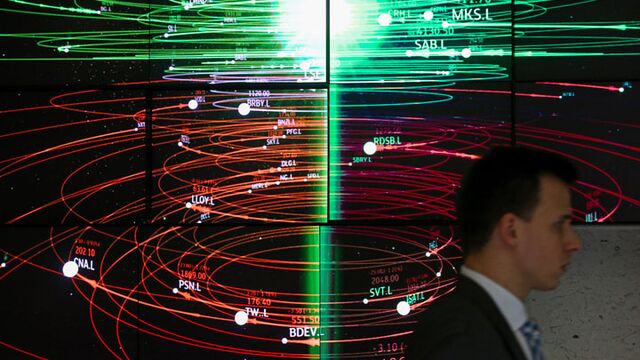 U.S. equities rose a second day as crude oil's recovery underpinned energy share gains. Treasuries dropped after jobs data reignited speculation that the Federal Reserve will raise interest rates this year, damping currency volatility.
The Standard & Poor's 500 Index gained 0.4 percent to extend Tuesday's advance as energy producers jumped to a two-month high. U.S. crude climbed to its highest level since early January as data showed a drop in gasoline supplies and increased use of oil by U.S. refineries. Copper rose to a three-month high as the dollar retreated. Yields on 10-year Treasuries rose to their highest level in a month, while a bond-market measure of inflation expectations climbed a ninth day after a private report on U.S. payrolls showed companies added more workers than economists projected last month.

Riskier assets have started to claw back some of their 2016 losses amid the potential for more global central-bank stimulus and signs the economic pessimism that dominated trading at the start of the year may be dissipating. The payrolls report from ADP Research Institute followed data Tuesday that signaled manufacturing in the world's biggest economy was steadying. Citigroup Inc.'s U.S. Economic Surprise Index, which measures whether data beats or misses estimates, has risen to its highest level since November. In China, leaders have ruled out the prospect of a one-off yuan devaluation and replaced the chief of the securities regulator in a bid to win back the confidence of investors.
"We're seeing momentum slow," said Joe Bell, a Cincinnati-based senior equity analyst at Schaeffer's Investment Research Inc. "We're starting to see people talk about an accelerated Fed rate hike schedule. Just a few weeks ago, most expectations were much further out. With data coming in much stronger than expected, and the positive reaction from the stock market, the Fed outlook has changed."
Stocks
The S&P 500 climbed to 1,986.45 as of 4 p.m. in New York, after the benchmark gauge capped its best session in a month on Tuesday. Energy shares, telephone companies and banks were the best-performing groups, while retailers and raw-material producers fell. The Chicago Board Options Exchange Index, a gauge of market turbulence known as the VIX, fell for a second day after sliding Tuesday to its lowest level this year.
Traders have boosted the odds of a Fed rate hike this year, with the chance of an increase in June at 38 percent, up from about 26 percent a week ago. The probability of a move in December increased to 66 percent from 42 percent last Wednesday.
Investors are also weighing results from the Super Tuesday U.S. presidential primaries. Hillary Clinton dominated Democratic Party contests, beating rival Bernie Sanders, while Donald Trump boosted his chances of securing the Republican Party nomination with victories in key states. The eighth year of a presidency typically ranks last in terms of equity returns, and the first half of an election year is often even worse.
The Stoxx Europe 600 Index added 0.7 percent Wednesday, rising a fifth straight day. Since slumping to a 2013 low on Feb. 11, the European stock gauge has rebounded 12 percent amid rallies in banks, automakers, miners and energy shares.
Currencies
The U.S. dollar was little changed at $1.0870 against the euro, while falling 0.6 percent to 113.38 yen. The Bloomberg Dollar Spot Index, which tracks the greenback against 10 major peers, fell 0.3 percent in a third day of losses.
The Australian dollar strengthened for a third day, climbing 1.6 percent versus the dollar. Australia's commodity-dependent economy expanded 0.6 percent in the fourth quarter from the previous period, faster than the 0.4 percent growth forecast in a Bloomberg survey, data Wednesday showed. Brazil's real and the pound gained at least 0.9 percent.
The yuan traded in Hong Kong fell 0.1 percent to 6.5495 per dollar after the People's Bank of China lowered the currency's reference rate by 0.16 percent after. China's credit-rating outlook was lowered to negative from stable by Moody's Investors Service, which cited concerns over rising government debt and falling currency reserves in its decision.
Bonds
Rates on Treasury notes due in a decade increased one basis point to 1.84 percent, rising to the highest level since Feb. 5 after surging nine basis points on Tuesday. The 10-year break-even rate, the bond market's implied average annual inflation rate for the next decade, surpassed 1.5 percentage points for the first time since January.
Government bonds also retreated in the U.K., Germany and France, with 10-year yields climbing at least five basis points.
The Markit iTraxx Europe Index of credit-default swaps on investment-grade companies dropped as much as two basis points to 93 basis points. A gauge of swaps on junk-rated companies rose after falling four days. Both measures are at the lowest in about a month.
The risk premium on the Markit CDX North American High Yield Index, a credit-default swaps benchmark tied to the debt of 100 junk-rated companies, rose after falling yesterday to its lowest level in two months.
Commodities
Crude oil rose 0.8 percent to $34.66 a barrel in New York, after earlier retreating as much as 2.5 percent. The Energy Information Administration said fuel plants processed 16 million barrels a day of crude last week, the highest level for this time of year in data going back to 1989. Gasoline inventories fell by 1.47 million barrels, while U.S. crude inventories rose by 10.37 million to the highest since 1930.
"We don't think it's going to interrupt an early spring rally," James Cordier, founder of Optionsellers.com in Tampa, Florida, said of the higher crude supplies. "Gasoline demand is going to be tremendous."
Copper climbed 1.7 percent in London. Codelco, the world's biggest producer of the metal, expects a global surplus will persist through next year and that recent price gains are unlikely to be sustained. The metal will probably fluctuate at around $2 to $2.10 a pound for a couple of years, with extreme volatility, Chairman Oscar Landerretche said in an interview. 
Meanwhile, Glencore Plc Chief Executive Officer Ivan Glasenberg said Tuesday that he now sees commodity prices bottoming.
Emerging Markets
The MSCI Emerging Markets Index climbed 2.2 percent, rising to its highest level since Jan. 1. Stocks from developing economies are trading at 11.8 times estimated profits, the highest valuation so far in 2016.
The Shanghai Composite Index jumped 4.3 percent, the most since Nov. 4, while the Hang Seng China Enterprises Index in Hong Kong climbed 3.8 percent, amid speculation China will announce more measures to boost growth. 
The real appreciated 1 percent amid speculation support to impeach President Dilma Rousseff is growing.