Adidas Is a Late Starter in the Race for the Women's Market
by and
It targets women just as competitors Nike and Puma do the same

Oscar commercials, new brands and multipurpose garments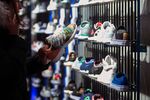 Morgan Brill wears a three-year-old pair of Adidas cross-trainers -- for her work as a nurse.  When it comes to preparing for her first half-marathon, she probably wouldn't buy the brand, even though she wore Adidas as a college soccer player.
"They don't have enough options, and they aren't well-known for long-distance running," said Brill, 25, who lives in Oostburg, Wisconsin. In addition, "Their three-striped symbol just isn't as as prestigious as Nike's. I feel like their marketing just isn't as big."
Adidas AG, which traces its history in Germany back to the 1920s, is setting out to change the mind of female customers such as Brill and catch up to Nike Inc.. -- which, like Puma SE, is also targeting women. Nike's 5.7 percent share of the $176 billion global market for women's shoes is more than double that of Adidas, with Puma farther down the list, according to researcher Euromonitor International.
Adidas, which ushers in a new chief executive officer in October, last month appointed company veteran Nicole Vollebregt as its first global head of women's products. It's marketing women's garments that can serve double duty for exercise or work, bringing out new women's shoe models and aired women-focused commercials on Sunday's Academy Awards telecast, about 60 percent of whose viewers are female. The goal is to win over post-collegiate athletes, recreational runners and women who want to look good at the gym. To that end, Adidas has also hired former Lululemon Athletica Inc. CEO Christine Day as an adviser.
Sweating Customers
"If you look at where the growth in the industry in years to come is going to come from, it's going to come from women," said Vollebregt, adding that she's focusing on young women who played sports in school and then tailed off without the benefit of teammates and coaches. "This is a woman who sweats."
Adidas is designing more sneakers, jackets and other garments specifically for women's sports as part of a turnaround attempt after several years of mixed performance. It will present a plan for the year when it reports earnings March 3 at headquarters in the Bavarian town of Herzogenaurach. The company expects revenue and operating profit will rise at a double-digit rate this year following three years of uneven growth and scrapped profit targets.
One challenge: Puma and Nike are going after the same market. No. 1 sports brand Nike aims to double sales to women to $11 billion by 2020 from $5.7 billion last year, and produces six sneaker models for women that it says generate more than $100 million each in annual sales. Not to mention niche brands such as Lululemon, Sweaty Betty and Under Armour Inc. for clothing and Brooks and Asics for shoes.

"I'm not as familiar with Adidas for running," said Lorial Crowder, 39, who specializes in nutrition and fitting sports bras at New York Running Company by Jack Rabbit. "I've just always gravitated toward Brooks. They work better for my feet."
Adidas in January released PureBoost X, a running shoe, and has more running designs in the pipeline. Nike has opened women's-only stores in Newport Beach, California, and San Francisco and has designed a slickly produced Web film series called Margot vs. Lily, about a humorous fitness challenge between a buff young woman and her not-so-sporty sister.
Puma's women's product sales grew 40 percent in the U.S. for the year ending in January, according to market researcher NPD Group, thanks in large part to daring designs from singer Rihanna. Her input will find its way into more mainstream workout shoes too, CEO Bjoern Gulden said.
Girly Shoes
"We have had a history in this industry of really under-serving women," said NPD analyst Matt Powell. "The idea was you took a man's style and put some color and girly style on it and called it a women's shoe." U.S. sales of women's athletic footwear for the year ended in January were $4.6 billion, or about 26 percent of the $17.4 billion sport-sneaker market, according to NPD. Men's sales were 55 percent of the total.
"Ten years ago women would go out to buy running shoes and it wasn't seen as that stylish," said Nina Graf-Vlachy, Puma's global director of strategy. "Now it's as fun as shopping for fashion."
Before it's here, it's on the Bloomberg Terminal.
LEARN MORE