'Brexit': Lots of Risk, Little Obvious Reward, BlackRock Says
by
Philipp Hildebrand says leaving EU would harm British economy

U.S. money manager sent referendum note to clients on Tuesday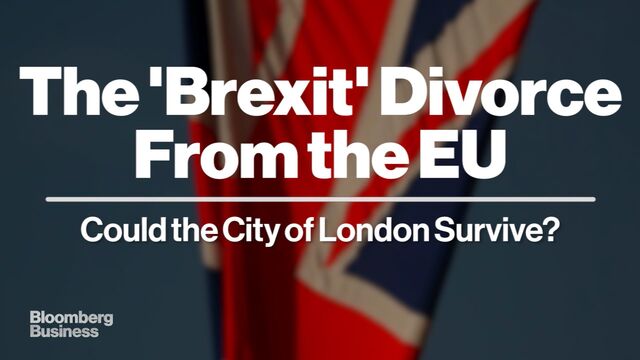 The U.K. would generate less economic growth and have a drop in investment if voters decide to leave the European Union in the June referendum, according to BlackRock Inc., the world's largest money manager.
"Brexit offers a lot of risk with little obvious reward," Vice Chairman Philipp Hildebrand said in a report sent to clients on Tuesday. The U.K. could face higher unemployment and inflation if it leaves the 28-member bloc, he said.
QuickTake Will Britain Leave the EU?
BlackRock said volatility in U.K. and European assets will increase before the vote, which Prime Minister David Cameron has called for June 23. "An actual Brexit would hit global risk assets, we believe, whereas a vote to stay would reassure markets," the U.S. money manager said.
A British exit from the EU would be a "shock" that could harm the global economy, finance chiefs from the Group of 20 said at a meeting last week. The debate has split the U.K.'s ruling Conservatives, with leader Cameron and close ally George Osborne facing opposition from senior colleagues Boris Johnson and Michael Gove, who want to leave the EU.
"We find it hard to believe an independent U.K. would be better off economically, barring a big rise in productivity or a much lower exchange rate," BlackRock said in the report. "Neither are guaranteed."
Hildebrand wrote the report, titled "Brexit: Big Risk, Little Reward -- The U.K. Referendum on Europe," with BlackRock's Joanna Cound, Joe Di Censo, Rupert Harrison and Ewen Cameron Watt. Harrison formerly had a senior position in Chancellor of the Exchequer Osborne's Treasury department.
'Less Clout'
The U.K. would have "less clout to negotiate regulatory standards for unimpeded EU market access" if it left, according to BlackRock, which manages $4.6 trillion globally. Its report is the latest intervention by a finance company in a debate that has drawn attention from banks, insurers and hedge funds.
Sterling is "vulnerable to Brexit fears" and U.K. equities would be harmed by a vote to leave, BlackRock said. The pound fell to the lowest in almost seven years last week after the Bank of England said uncertainty over the U.K.'s membership of the EU is weighing on the currency.
The U.K.'s central bank would probably cut interest rates or restart its bond-buying program in the event of a British exit. A departure could also increase gilt yields and trigger a credit downgrade, BlackRock said. The U.K.'s budget and current account deficits would also be harmed, the company said.
The potential gains from being able to strike trade deals on its own "may prove to be illusory," BlackRock said. "The realpolitik of trade deals is that the larger you are, the harder you punch. A lone U.K. would have less clout."
The U.K.'s departure would also have a negative impact on the remaining countries, according to Isabelle Mateos y Lago, a senor adviser at the company.
"Brexit wouldn't be a sudden shock to the EU, but it would corrode its cohesion and competitiveness notably over time because of the U.K.'s position as a highly efficient financial services hub," she said.

Before it's here, it's on the Bloomberg Terminal.
LEARN MORE