VW CEO Says U.S. Diesel Talks Could Still Take Weeks, Months
by and
U.S. judge ordered the carmaker to reach solution by March 24

Volkswagen is in U.S. talks on recalling about 600,000 cars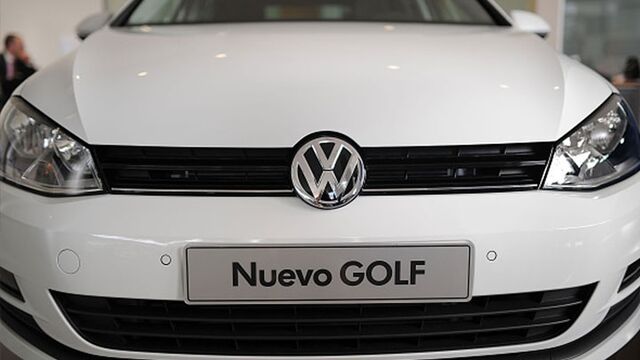 Almost six months after Volkswagen AG's emissions cheating became public, Chief Executive Officer Matthias Mueller said talks with U.S. regulators on fixing the rigged engines may take a few more weeks or months.
Mueller wouldn't say whether Volkswagen would be able to come up with a solution by March 24, the deadline set last week by U.S. District Judge Charles Breyer. The recall applies to some 600,000 diesels still on the road in the U.S., where talks are draggingon and the German carmaker may need to buy back some vehicles.
"The discussions are going on, and the constructive dialog makes some progress, so we will see what happens during the next weeks and months," the CEO said Monday in an interview with Bloomberg Television before the Geneva International Motor Show.
Volkswagen has been searching a way out of the crisis since the cheating on diesel emissions tests came to light in September. The lack of a firm time frame for an agreement with U.S. regulators suggests Volkswagen is still struggling to move past the scandal. The release of Volkswagen's 2015 earnings figures have also been delayed due to uncertainty over the financial impact of fines, lawsuits and repairs to 11 million vehicles worldwide.
"You can suppose that Volkswagen is a company which is able to handle the money," Mueller said, adding that the automaker will need to set priorities for spending on items such as new products, autonomous driving, electric vehicles and digital technologies.
Volkswagen, which said it will publish a "substantial report" on its probe of the diesel scandal "in the near future," outlined plans Monday for so-called future centers in Germany, California and China that will work on how people interact with their cars. The manufacturer will "in part become a software and services company" as mobility technology develops, Johann Jungwirth, Volkswagen's digital-strategy chief, said in a statement.
Scaled Back
Mueller joined VW-brand chief Herbert Diess and other top executives at the carmaker's pre-show reception Monday evening, dubbed group night, as it prepares to display new models in Geneva this week. Volkswagen has drastically scaled back its celebrations at such industry events, part of a savings drive in the wake of the scandal. Instead of the arena-like stage for multimedia spectacles that it usually builds at the downtown Halle Secheron venue, Volkswagen is hosting this year's group night in a loft at the show's Palexpo trade-fair complex. It's inviting 500 guests instead of the usual 1,500.
Diess has also embarked on a 12-point program to boost efficiency and revive earnings at the VW nameplate, the company's largest by deliveries. The pressure is on after French mass-market rivals PSA Peugeot Citroen and Renault SA showed significant progress in widening profit margins at their automotive divisions last year, with respective returns on sales of 5 percent and 3.5 percent.
"This raises some serious questions regarding the ailing performance of the VW brand, which even before the most recent diesel crisis hardly generated more than a 2 percent profitability," Arndt Ellinghorst, a London-based analyst at Evercore ISI, said in a note last week.
VW will show a revamped version of the tiny Up! city-car with expanded smartphone integration options in Geneva. It's also displaying a fresh concept of a compact sport-utility vehicle, a bid to catch up in the auto industry's fastest-growing segment.
Before it's here, it's on the Bloomberg Terminal.
LEARN MORE