Valeant Libido Pill Gives Limited Gain in Sex, Study Finds
by
Benefits of female libido pill are marginal, researchers say

Medicine carries side effects including dizziness, fatigue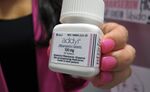 Women taking Valeant Pharmaceuticals International Inc.'s pill Addyi, designed and approved to boost their sex drive, get one additional satisfying sexual experience every other month thanks to the medicine, according to a Dutch study.
The drug, which has failed to gain a sizable following since it was approved by U.S. regulators in August, also carries side effects including dizziness, sleepiness, nausea and fatigue, the study published in JAMA Internal Medicine found. Researchers from Erasmus University Medical Center in Rotterdam analyzed the combined results from eight clinical trials involving 5,914 women to draw their conclusions.
The medicine, known chemically as flibanserin, shouldn't be recommended in treatment guidelines or routinely prescribed until future studies are conducted to prove its benefits in a wider range of women, the researchers said. The quality of the information currently available is poor, and additional details are needed for women with other health concerns, those who have undergone a hysterectomy, or who are taking other medications, they said.
"The findings of this review suggest that the benefits of flibanserin treatment are marginal, particularly when taking into account the concurrent occurrence of adverse events," the researchers concluded.
Valeant Response
Tage Ramakrishna, Valeant's chief medical officer, said all three of the drug's pivotal trials found a significant increase in the number of sexually satisfying experiences women had after taking the medicine. The new article provides little additional context and downplays the importance of the condition, which makes conversations with doctors about it more difficult, he said in a statement.
"It is crucial that women suffering from HSDD are able to speak to their physicians about the full range of options, including medical treatment, to manage this serious and well-established condition," Ramakrishna said. HSDD stands for hypoactive sexual desire disorder.
Valeant, facing intense scrutiny over its drug prices, accounting and distribution practices, has lost more than two-thirds of its market value since its August peak of $262.52. The company announced Sunday that it was withdrawing its existing financial guidance, would delay a fourth-quarter results call that had been scheduled for Monday, and that Chief Executive Officer Mike Pearson would return from medical leave to lead the company again. The shares fell 9.1 percent to $73.30 at 2:47 p.m. in New York, after Valeant canceled the release of unaudited quarterly earnings, withdrew its 2016 forecast and said CEO Pearson is returning from a two-month medical leave.
Desire Disorder
Addyi was approved last year for premenopausal women with hypoactive sexual desire disorder, a condition marked by little or no sexual desire or fantasy life and that causes the patient distress. The American Psychiatric Association estimates that 10 percent to 40 percent of women may have the condition, which arises without any known cause.
While there were extensive debates about the drug's position at the nexus of science, health policy and feminism, the researchers said their analysis is the first to fully summarize the available evidence about the medicine's benefits and risks. For example, the findings from the five studies that were published were more favorable than the results from the three studies that weren't widely available in the medical literature, the researchers said.
Doctor Group
A Valeant spokeswoman didn't immediately respond to a request for comment on Monday.
The International Society for the Study of Women's Sexual Health, a physician group, disputed the findings, calling into question the way the study was conducted.
The JAMA report included studies that weren't published and that included doses that aren't currently used, the society said in a statement. In addition, it didn't take into account the women's distress levels from their condition. Nonetheless, the report did find benefit for flibanserin over placebo, a clear indication of benefit from high-quality research, the ISSWSH said.
The drug carries a black box warning, the U.S. Food and Drug Administration's strongest, saying women who use it aren't supposed to drink. They also should stop using it if they don't benefit within eight weeks. The FDA also is requiring additional studies of the drug's safety.
Skeptical View
Steven Woloshin and Lisa Schwartz, who research medicine in the media at the Dartmouth Institute for Health Policy and Clinical Practice in Lebanon, New Hampshire, outlined their concerns in an editorial. The drug was twice rejected by the FDA after findings of weak benefit and potentially serious side effects, including the case of one woman who became unresponsive after taking Addyi with another common medicine, fluconazole, used to treat fungal infections.
They pointed to an advocacy group, Even the Score, which was launched with the help of Sprout Pharmaceuticals Inc. Sprout, which got the drug through the FDA approval process, was purchased by Valeant for $1 billion two days after Addyi was cleared. The advocacy group conducted an "intense promotional campaign" aimed at journalists, women's groups, Congress and the FDA, Woloshin and Schwartz wrote.
"The flibanserin saga is unsatisfying," Woloshin and Schwartz wrote. "The FDA approved a marginally effective drug for a non-life-threatening condition in the face of substantial and unnecessary uncertainties about its dangers. Women with distressing sexual desire problems need good treatments. We all need a drug approval process that delivers good decisions based on adequate evidence."
Before it's here, it's on the Bloomberg Terminal.
LEARN MORE