Valeant's $31 Billion of Debt May Be Cut From Ba3 by Moody's
by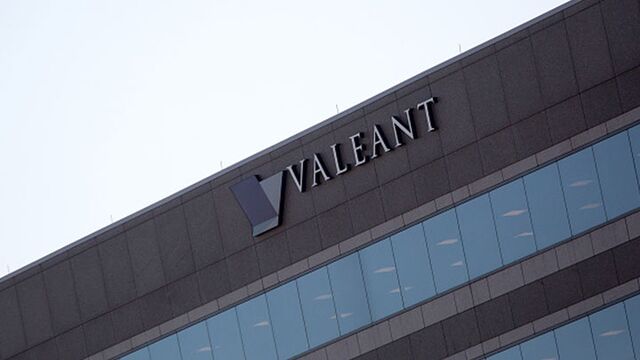 Valeant Pharmaceuticals International Inc. may have its credit rating cut by Moody's Investors Service amid concern the company will struggle to reduce debt because its operating performance may be weaker than forecast.
The Quebec-based drugmaker was scheduled to conduct a fourth-quarter preliminary earnings call Monday but withdrew its financial forecast and said it would delay releasing the results after the company's chief executive officer returned to his post Sunday. Separately, Valeant reported on Monday that it's under investigation by the U.S. Securities and Exchange Commission. The company's debt plummeted.
Moody's decision to put the company's ratings under review for downgrade is the latest sign of dwindling confidence in the business as it has grappled with questions about its business practices, strategy and accounting. Valeant shares have tumbled 73 percent since Aug. 11, and the company's bonds plunged Monday after news of the postponed guidance. 
Covenant Breach
Some bondholders said they were concerned that the drugmaker's decision to withdraw its financial forecast and delay releasing earnings results could lead to a breach of the company's reporting requirements under its debt documents.
Valeant's loan provisions require it to make year-end financials available to loan investors within 90 days after the period ends, with an additional 30-day grace period, the documents show. Under the bond indenture, Valeant has to provide creditors with all quarterly, annual and current reports required by the SEC. Companies can request to amend such requirements with the SEC.
As of Monday afternoon, Valeant hadn't asked its agent bank to amend its credit agreement with loan investors, nor had it sought help amending the debt indenture with its bondholders, according to a person with knowledge of the matter.
A spokeswoman for Valeant with Sard Verbinnen & Co. didn't immediately comment.
More Pessimistic
As part of the review announced Monday, Moody's said it will be monitoring the health of Valeant's key businesses, its progress in transitioning toward a new prescription fulfillment program with Walgreens Boots Alliance Inc., and its deleveraging prospects, according to a statement. A downgrade from Ba3 would affect $31 billion of the company's rated debt.
The rating firm had maintained a neutral view on Valeant until last week, when the company said it would miss an SEC filing deadline. At that time, Moody's said it would could become more pessimistic on the company if intensifying challenges crimped Valeant's deleveraging abilities or resulted in more reporting delays.
"Valeant is confronting significant scrutiny on its pricing practices, including those on products acquired through acquisitions, and uncertainty related to government investigations," analysts led by Michael Levesque wrote.
The company's $3.25 billion of 6.125 percent bonds due in 2025 dropped to as low as 79.75 cents on the dollar, the lowest level since they were issued last year, according to TRACE, the bond-price reporting system of the Financial Industry Regulatory Authority.
The rating firm said it will also try to assess the company's ability to grow in a strategy "less reliant on large acquisitions and cost reductions."
Before it's here, it's on the Bloomberg Terminal.
LEARN MORE