pursuits
U.K. Mortgage Approvals Jump in Rush to Beat Tax Increase
By
Investors are buying properties before April stamp-duty hike

Foreign investors sell most government bonds since March 2014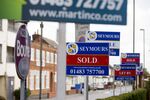 U.K. mortgage approvals reached a two-year high in January as buy-to-let landlords rushed to beat a tax increase.
Lenders agreed to advance 74,581 loans, the most since January 2014, compared with 71,335 in December, the Bank of England said in London on Monday. Economists had forecast a reading of 74,000. Net mortgage lending climbed to 3.7 billion pounds ($5.1 billion).
The data add to evidence that rental investors are snatching up property before April, when buy-to-let properties and second homes will be subject to a stamp-duty homebuyer tax 3 percentage points above the rate for property to live in.
Low interest rates and record employment are fueling demand for housing that's unmatched by new supply. The effective interest rate on new secured loans fell 6 basis points to 2.49 percent in January. The rate on outstanding mortgages declined 3 basis points to 2.96 percent. Loans approved for remortgaging climbed to 42,228.
Net lending to consumers increased to 1.6 billion pounds, with loans on credit cards reaching the highest since May 2008. Consumer credit grew 9.1 percent from a year earlier, the fastest pace since January 2006.
Business lending to non-financial firms rose by a record 6.3 billion pounds, of which smaller companies accounted for just 500 million pounds.
M4, a broad measure of money supply, was unchanged on the month and rose 0.8 percent from a year earlier. An underlying measure of M4 rose 4.3 percent on a 3-month annualized basis.
The BOE also said overseas investors sold a net 6.3 billion pounds of gilts in January following net sales of 1.7 billion pounds in December. It represented the biggest net disposal since March 2014 and may reflect concerns about a British exit from the European Union.
— With assistance by Mark Evans
Before it's here, it's on the Bloomberg Terminal.
LEARN MORE