Style
Six Cardigans That Won't Make You Look Like Mr. Rogers
Although that guy was on to something.
by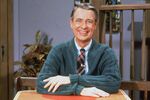 Let's face it, this time of year is terrible. 
The days are short, you're not getting enough vitamin D, and you need a vacation. Aside from investing in one of those seasonal depression therapy lamps or jetting to Martinique to escape the wintery mix, the next best thing is to invest in some cozy comfort wear. By that I mean a comfy cardigan, which just so happens to be the ultimate season pusher of knitwear thanks to its current various incarnations in streamlined fits and luxurious fabrics, from fine merino to hefty waffle-knit. 
Because even if our minds and our sun-deprived skin are ready for the beaming rays of spring, we still have a good while until we can start shedding the layers for floral-print and lighter fabrics. 
So men, here are six cardigans that are actually sexy, not shlumpy, and will keep you layered up in style, until we finally reach 60-degree bliss. 
Burberry London Slim-Fit Shawl Collar

A chunky shawl-collar cardigan is one of the most versatile and flattering pieces of knitwear  you can buy. Not only does the hefty neck take the place of both a great sweater and a scarf, but when properly constructed, like this one by Burberry London ($1,195, mrporter.com), it can add sexy bulk in all the right places—like the shoulders and the neck. What to wear it with: literally anything. But since this wool-and-cashmere beauty is already pretty plush, lightweight underpinnings are best, not to take that bulking effect too far. 
Abercrombie & Fitch Button-Down Fleece 

Yes, Abercrombie & Fitch. New design lead Aaron Levine, who single-handedly upped the style stakes for men at fellow retailer Club Monaco, has us rethinking the once-only tween retailer with sublime staple pieces such as this sun-faded fleece cardigan ($60, abercrombie.com). What to wear it with: a Henley or a V-neck T-shirt and a pair of dark, cuffed jeans.
Suitsupply Burgundy Shawl Collar 

This wool-and-cashmere hybrid ($149, suitsuppy.com) gives off both a rugged, masculine vibe and a smooth, relaxed formality. What to wear it with: an inky-blue chambray shirt and a pair of navy slacks. This style is best with most, if not all, buttons closed. 
Tomas Maier Checked-Front Fine-Knit Wool

This retro checkered-front cardigan by luxury specialist Tomas Maier ($722, matchesfashion.com) is eye-catching yet still easy to wear. What to wear it with: style it around a solid top and bottom only, such as black slim-straight jeans or flannel cargo pants and a navy, crew-neck T-shirt or poplin dress shirt. 
Gucci Cable-Knit Cardigan With Web

Chunkier textures—such as this cable-knit varsity number by Gucci ($830, gucci.com)—are ideal for a smart-casual weekend look. What to wear it with: a crisp, fully buttoned-up Oxford shirt and a killer pair of leather sneakers. Give your standard navy blazer a break and use this preppy-and-plush option as your outerlayer instead. 
Boglioli Knitted Cotton 

This mushroom-hued, fine-gauge option by Boglioli ($375, mrporter.com) is the sophisticated jolt your outfit needs on more spring-like days. What to wear it with: layered under an deconstructed blazer—cobalt blue perhaps—with a pair of slim-fitting, mauve chinos. Also, it's lightweight enough to layer under your favorite suit, maybe during the early half of wedding season. 
Nic Screws is the style director at Bloomberg. Follow her on Instagram and Twitter or e-mail her any of your fashion concerns or questions at nscrews@bloomberg.net.
Before it's here, it's on the Bloomberg Terminal.
LEARN MORE