S&P 500 Falls for a Third Month as Late-February Rebound Fades
by
Benchmark extends longest monthly losing streak since 2011

Declines accelerated after break of 50-day moving average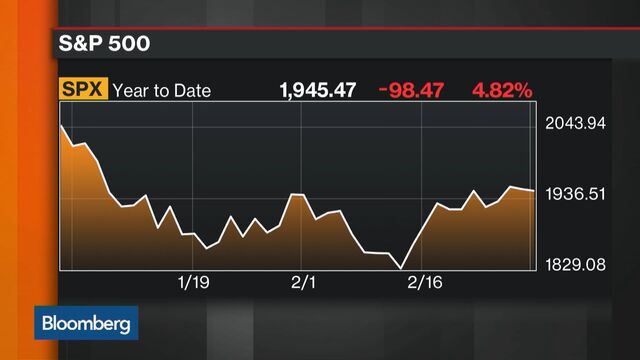 The Standard & Poor's 500 Index erased a February gain Monday, despite a rally in crude oil, as a two-week rebound faltered in the month's lightly traded final session.
Banks and health-care shares were the biggest drags today, with lenders capping a third monthly decline, losing 6.9 percent in February. JPMorgan Chase & Co. and Wells Fargo & Co. fell at least 2.1 percent to pace Monday's retreat. Amgen Inc. sank 3.6 percent and Endo International Plc plunged 21 percent as health-care companies had their worst decline in more than two weeks. Energy shares fell 1.2 percent to post the fourth consecutive monthly drop and ninth in the last 10.
The S&P 500 fell 0.8 percent to 1,932.23 at 4 p.m. in New York, extending its monthly losing streak to three, the longest in more than four years. It closed 0.4 percent lower for February. The Dow Jones Industrial Average lost 123.47 points, or 0.7 percent, to 16,516.50, though it managed to snap a two-month skid. The Nasdaq Composite Index sank 0.7 percent. Crude rose 3 percent. The S&P 500 hasn't declined on a day when oil climbed that much since Nov. 23.
"Following a pretty good week, investors might be taking a little pause, perhaps taking some profits," said Richard Sichel, chief investment officer at Philadelphia Trust Co., which oversees $2 billion. "There has been no upside catalyst today. Typically, the market goes in lockstep with oil, which is up today, but that connection has broken down. It would probably be a positive for stocks if they were to unlock."
Afternoon declines accelerated as the S&P 500 fell below its average price during the past 50 days. It closed above that level on Thursday for the first time this year. The index halted a two-day advance on Friday after signs of firming inflation spurred speculation interest rates may rise sooner than previously expected. A bank-fueled rebound of 6.5 percent since Feb. 11 through last week had briefly erased the benchmark's losses for the month.

Asian shares retreated today amid disappointment that the Group of 20 finance ministers meeting in Shanghai failed to make firm commitments to bolster the global economy. Concern over growth and a deepening rout in oil sent stocks tumbling earlier this year and stoked speculation of more support from policy makers.
After the close of trading in Asia, China's central bank cut the amount of cash the nation's lenders must hold as reserve, marking a return to more traditional easing after policy makers indicated in recent weeks they would spur growth by guiding interbank markets lower and injecting liquidity through open-market operations.
While the S&P 500 jumped 1.6 percent in the previous five trading sessions, the gains came amid the weakest volume in 2016, signaling a lack of conviction in the rally after losses of as much as 11 percent this year. The benchmark is down 9.3 percent from an all-time high reached last May. About 8.3 billion shares traded hands on U.S. exchanges Monday, in line with the three-month average.
Data Watch
Investors are also assessing economic releases to gauge the trajectory of rate increases, before the Federal Reserve's next decision on March 16. Data today showed contracts to purchase previously owned homes unexpectedly dropped in January by the most in two years. A February gauge on manufacturing in the Chicago area today also fell more than forecast. Data on Friday showed the Fed's preferred measure of inflation rose by the most since October 2014.
After last week's batch of reports, traders raised their bets for further Fed rate increases this year, though they tempered a bit today. The probability of a June boost is 30 percent, down from 35 percent Friday. Odds of a December move reached almost 54 percent after slipping to 11 percent at the height of this month's stock selloff on Feb. 11.
Meanwhile, options traders aren't currently pricing in the possibility of a Donald Trump presidential victory, Pravit Chintawongvanich, head derivatives strategist at Macro Risk Advisors, wrote in a note last week. The term structure of at-the-money options for the S&P 500 shows the market is pricing in virtually no event premium for the U.S. presidential election, he observed, meaning that the cost of insuring against a move in equities isn't particularly elevated.
The Chicago Board Options Exchange Volatility Index rose 3.7 percent Monday to 20.55. The measure of market turbulence known as the VIX slipped 22 percent over the previous two weeks, closing at the lowest level of 2016 last Thursday, though it finished 1.7 percent higher in February.
Broad Declines
Nine of the S&P 500's 10 main industries declined today, with biotechnology companies dragging health-care shares lower, while energy producers retreated despite gains in crude and banks fell for the first time in three sessions. Utilities rose on the way to a third consecutive monthly increase and the fifth in the last six.
Endo International Plc tumbled 21 percent, the most in more than 12 years. The company forecast 2016 sales and earnings that missed some analysts' estimates, while also saying it's winding down its Astora Women's Health business and increasing its mesh product liability accrual. The Nasdaq Biotechnology Index dropped 2.7 percent and finished 4.9 percent lower for the month.
Valeant Pharmaceuticals International Inc. slid 18 percent to a more than three-year low, and extended its two-day decline to 22 percent. The company said it's under investigation by the U.S. Securities and Exchange Commission in a previously undisclosed probe. It earlier said it's withdrawing its financial forecast and delaying the release of fourth-quarter results, as Chief Executive Officer Michael Pearson returns to the drugmaker after a hiatus.
Energy companies in the S&P 500 slipped 1.2 percent even as West Texas Intermediate crude futures rallied 3 percent. Southwestern Energy Co. lost 9.4 percent after being cut to underperform from market perform by Raymond James Financial Inc. The company also had its rating cut by Jefferies Group LLC last week. Chesapeake Energy Corp. and Apache Corp. slipped more than 3 percent.
SunTrust Banks Inc. and Synchrony Financial were the worst performers among financial shares in the benchmark index, falling more than 3.5 percent. For the month, financial companies fell 3.2 percent, marking a third straight monthly decline, the longest since September 2011.
Before it's here, it's on the Bloomberg Terminal.
LEARN MORE