Redstone Faces Competency Trial Amid Fight Over Empire
By and
Judge says trial will decide among conflicting medical reports

Dauman's role as Redstone's health care agent questioned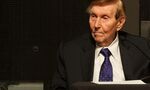 Sumner Redstone is heading to trial over an ex-girlfriend's claims he's mentally incompetent, the result of a court ruling that may intensify competition for control of his $3 billion holdings in Viacom Inc.and CBS Corp. 
A Los Angeles probate judge questioned Monday whether it made sense for the 92-year-old media mogul to have put Viacom Chief Executive Officer Philippe Dauman in charge of his health-care decisions instead of a family member. The judge refused to dismiss allegations by an ex-girlfriend that Redstone, the controlling shareholder of both companies, is incapacitated and manipulated by those around him.
The case has already exposed infighting among those closest to Redstone over who has his best interests at stake. A trial might spill more secrets with Dauman being ordered to provide testimony, weeks after he was chosen by Viacom's board to succeed Redstone as chairman in a rebuff to his daughter, Shari Redstone.
Judge David Cowan, who will decide the case without a jury, set a trial for May 6. He said he isn't confident things "are all patched up" between Sumner and Shari Redstone.
"It has to be an unusual situation where a parent still at this late date puts his East Coast business colleagues ahead of an adult child, or for that matter adult grandchildren, in terms of his care," Cowan said.
Viacom, CBS
Investors have been watching the case closely to see how it might affect Viacom and CBS, two of the biggest U.S. media companies. If the judge rules that Redstone was incompetent last year when he dropped ex-girlfriend Manuela Herzer as his health-care agent, that could prompt the board of National Amusements Inc., the family holding company that owns his stakes in CBS and Viacom, to have his personal physicians reexamine his mental state.
At least one shareholder has sued the boards of Viacom and CBS, accusing them of wasting millions of dollars paying Redstone when he was unfit to lead. He stepped down as chairman of both companies this month, days after he was examined by a psychiatrist designated by Herzer as part of her court case.
Control of Redstone's 80 percent voting stakes in Viacom and CBS will pass to a family trust if he becomes incapacitated or dies. Shari Redstone and Dauman are two of the seven members of that trust. Redstone's Viacom and CBS holdings are shielded from Herzer's lawsuit -- the family trust that will take control was established too long ago to be in doubt even if he's declared incapacitated.
Pierce O'Donnell, a lawyer for Herzer, said after Monday's court hearing that he doesn't know whether Redstone will be called to testify at trial. O'Donnell said the judge's decision to let the case proceed was heavily influenced by the findings of the geriatric psychiatrist picked by Herzer. While that doctor's report remains sealed from public view, Cowan said Monday it provided sufficient information to raise a reasonable question about whether Redstone lacks capacity.
'Far Cry'
Gabrielle Vidal, a lawyer for Redstone, said the judge's decision to let Herzer proceed with her case "is a far cry from winning her petition."
"This decision is not a finding on the merits and it does not change the fact that Ms. Herzer's motives are purely financial," Vidal said in a statement.
A Viacom spokesman declined to comment on the ruling.
Herzer, who describes herself as Redstone's longtime friend, companion and caretaker, alleges he wasn't able to make his own decisions when he removed her from his advance health-care directive and evicted her from his mansion in October. She was replaced by Dauman as Redstone's health-care agent.
On Feb. 25, Dauman lost his bid to avoid being questioned under oath by Herzer's lawyers in a pretrial deposition. His lawyer had argued to the New York judge who made that decision that Dauman was 3,000 miles away when Herzer was removed as Redstone's caretaker.
Cowan said at the hearing it's unusual that he hasn't received a statement from Redstone himself. He also questioned whether it's appropriate for Dauman to be in charge of health-care decision making for an elderly man in Los Angeles.
'Best of Intentions'
"The court does not see how a person in charge of a public company in New York has the time or ability to look after Redstone even assuming his best of intentions," the judge said in his tentative ruling issued at the start of the hearing. The judge later made the ruling final.
Redstone's lawyers claim Herzer's ulterior motive is to contest her removal from his will. They say Herzer stood to inherit $50 million plus Redstone's $20-million home before she was taken out of his estate plan.
Redstone's primary doctor has said he visits the billionaire's home several times a week and that the media mogul is mentally competent. A geriatric psychiatrist retained by Redstone's lawyers who examined him in October when he signed estate-planning documents also concluded he isn't incapacitated.
It will be the court's "primary task at trial to determine which of these physicians most accurately states Redstone's mental status," Cowan said in his ruling.
'Totally Isolated'
Herzer contends Redstone is "totally isolated in a virtual intensive care unit and dependent on others for his well-being" and has been the victim of duress, fraud and undue influence, according to a Feb. 18 court filing.
Herzer dated Redstone from 1999 to 2001, according to her petition. She said she had lived with him since April 2013, together with his then-girlfriend Sydney Holland. After Redstone broke off with Holland in August, he changed his advance health-care directive to make Herzer his sole agent. Holland isn't involved in the current dispute.
Shari Redstone has said in a court filing that her father's health has "flourished" since Herzer is no longer involved in his life.
Herzer said in her own filing that the relationship between Shari Redstone and her father was so frosty that by the end of 2014 they were negotiating to split their empire, with the younger Redstone taking the family movie theaters in exchange for her 20 percent stake in their holding company.
Significant Bequest
Shari Redstone manipulated her father to prevent anyone else from receiving a significant bequest after his death, Herzer said. Redstone's gifts to Herzer would have triggered taxes requiring sales of CBS and Viacom shares by the family trust, according to her filing.
"Ms. Herzer's attack on the Redstone family reached a new low with her unfounded claim to the court that Shari's devotion to her father is motivated by money or power, and not love," Nancy Sterling, a spokeswoman for Shari Redstone, said in an e-mailed statement. "The family has no financial interest in the case and always understood and supported Sumner's plan to honor his legacy by leaving his estate largely to charity. "
Sterling also said Shari Redstone was a health-care proxy for her father before Herzer. Then, about two months after Herzer was replaced by Dauman, Redstone wrote a letter to Dauman asking that Shari be treated as a "joint" agent on medical matters, according to a statement filed in court by Shari Redstone.
That request "is reflective of the strong relationship that exists between Shari and her father," according to Sterling's statement.
The case is In re Advance Health Care Directive of Sumner M. Redstone, BP168725, Los Angeles County Superior Court.
(
Corrects spelling of Viacom CEO's name in second paragraph story originally published Feb. 29.
)
Before it's here, it's on the Bloomberg Terminal.
LEARN MORE