Record-High Propane Shipments Leading U.S. Energy Export Boom
By
Expanded Houston Ship Channel export terminal comes online

Propane exports rose 46 percent from year earlier in 2015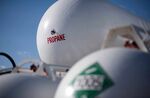 The U.S. energy export boom is being fueled by propane. Exports of the natural gas liquid jumped to monthly and annual records in December, U.S. Energy Information Administration data show.
The fuel, used mostly for heating homes and making plastics, was shipped out at 751,000 barrels a day in December. That was 14 percent of total hydrocarbon export, which also broke a record at 5.28 million as the shale revolution drove up output of natural gas and oil. Crude oil, whose export restrictions were dropped in December, accounted for 392,000, or 7.5 percent.

For all of 2015, propane exports averaged 616,000 barrels a day, up 46 percent from the record set in 2014 and more than five times the 2010 level.
The exports aren't likely to slow. Midstream operator Enterprise Products Partners LP expanded its Houston Ship Channel export terminal to move more than 500,000 barrels a day in mid-December, Ajey Chandra, director at Muse Stancil & Co. in Houston, said Monday by phone. Propane export capability is also growing from the Northeast hub operated by Sunoco Logistics Partners LP in Marcus Hook, Pa.
Long-Term Contracts
Chandra said U.S. propane exports will be strong in 2016 and beyond because Enterprise tends to book purchase agreements on a long-term, take-or-pay basis. 
"Our terminal is over 90 percent subscribed through 2019, and we have contracts extending well into the 2020s," Jim Teague, chief executive officer of Enterprise, said during the company's fourth-quarter earnings call Jan. 28. Teague said last week that Enterprise has nominations to move 6 million barrels of crude in March but hasn't signed any long-term contracts to do so.
U.S. liquefied petroleum gas exports, which are mostly butane and propane, move all over the globe. Mexico was the top consumer in December, bringing in 21 percent of total shipments. China and Japan combined to take 25 percent.
Asian countries that previously depended on the Persian Gulf are also buying U.S. propane, Teague said. 
"We've signed two large contracts with Asian companies, one going to Japan and one South Korean company," Teague said. "These guys are looking to diversify their supply."