RBC: If Yellen Doesn't Hike in March, the Fed Isn't Really 'Data Dependent'
At least not on domestic data.
by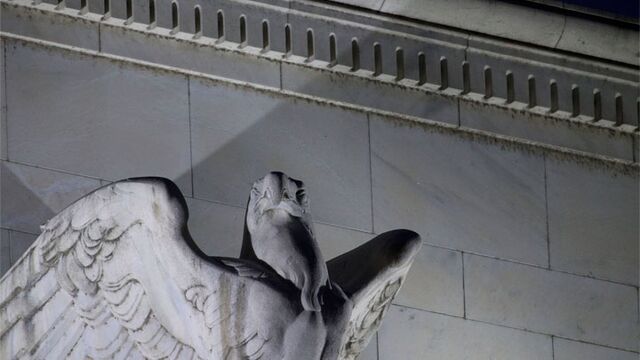 The Federal Reserve will be acting in defiance of its most steadfast guidance if it doesn't raise interest rates at its next meeting, according to RBC Capital Markets.
"For all of the effort the Fed has put into communicating to markets that monetary policy decisions are data dependent, a no move at the March meeting (our base case) will prove the exact opposite," wrote Chief U.S. Economist Tom Porcelli.
Monetary policymakers have long used the phrase "data dependent" to describe the future course of monetary policy in an attempt to retain maximum wriggle room as economic and financial circumstances changed.
The bigger-than-expected jump in January's core PCE index to 1.7 percent over the previous year underscores the appropriateness of delivering another interest rate hike, according to Porcelli. The Federal Reserve's preferred gauge of inflation is now running hotter than what the median policymaker projected it would be at by year's end.
Meanwhile, a jobless rate of 4.9 percent rests in the middle of the range of what the Federal Open Market Committee considers to be full employment.

"Note that a Fed forecast for core PCE prices to hit 1.6 percent by the end of 2016 and for the unemployment rate to be at 4.7 percent was justification enough to usher in a baseline view of four rates hikes this year," wrote Porcelli, referencing the projections monetary policymakers made in December. "Not only has the trajectory toward those explicit goals not changed, it has accelerated!"
In the wake of seemingly dovish speeches from Fed Governor Lael Brainard, St. Louis Fed President James Bullard, and Atlanta Fed President Dennis Lockhart, Porcelli gripes that Fed communication is "effectively taking March off the table" despite the continued progress on achieving the central bank's dual mandate of full employment and price stability, defined as inflation at 2 percent.
The probability of a hike implied by federal fund futures currently sits at about 10 percent.
The brief scare about an uptick in initial jobless claims has subsided, adds Porcelli, who reiterated his claim that the drag stemming from oil prices are also clearly waning.
"When you look at all top 10 oil-sensitive states, initial jobless claims have now declined year-over-year in four of the last six weeks—and three weeks in a row now," he wrote.
But maintaining the current target range for the federal funds rate in March wouldn't be the first time the U.S. central bank has been data dependent when convenient as it pertains to the domestic economy's performance.
In September, the Fed abstained from liftoff despite Janet Yellen's pronouncement that the domestic economy was ready for higher rates.
Perhaps data dependence applies more to financial market and global economic metrics than is commonly appreciated, Porcelli concludes.
"A no hike in March reaffirms that monetary policy remains less about U.S. domestic realities and more about the perceived risks from the commodity price collapse and broad global malaise," the economist wrote.
Before it's here, it's on the Bloomberg Terminal.
LEARN MORE