Hong Kong Election Shows Growing Support for Independence Push
by and
'Localist' candidate secures 15% of vote for legislative seat

Result raises stakes for citywide elections in September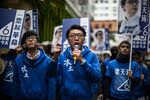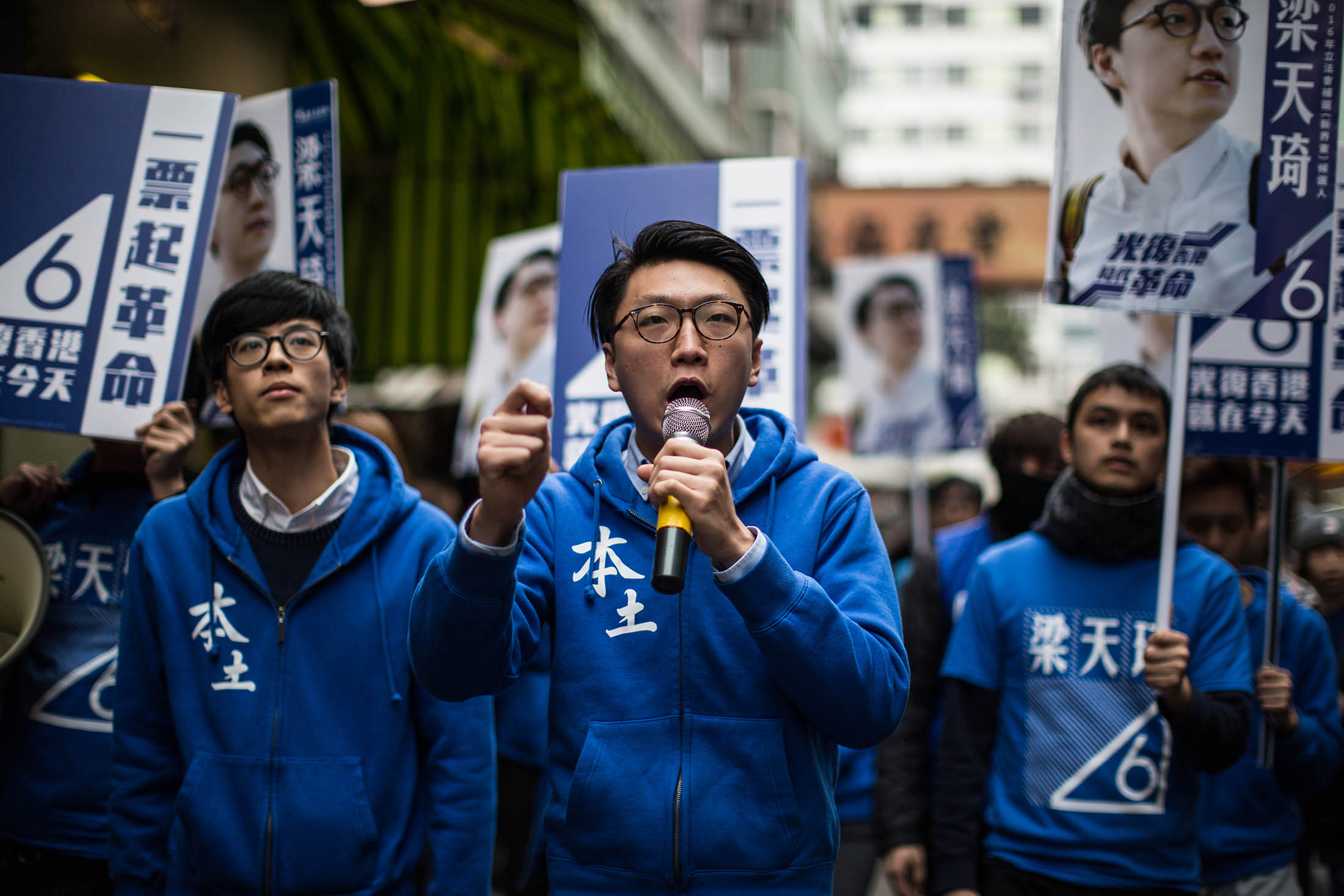 A candidate charged over Hong Kong's Lunar New Year riots won an unexpectedly high number of votes in a by-election, raising the possibility that parties seeking independence from China may influence results of citywide legislative elections later this year.
Edward Leung Tin-kei, a leader of the so-called localist group, Hong Kong Indigenous, secured about 15 percent of the vote in the Legislative Council's New Territories East district on Sunday. Alvin Yeung Ngok-kiu, of the pro-democracy Civic Party won 37 percent, beating the pro-establishment candidate, Holden Chow Ho-ding, by about 2 percentage points. The result preserves the status quo between democratic and pro-Beijing forces on the legislature.
"The bigger story is the extremely strong showing of the third-place candidate, who got an unexpectedly high share of the vote and suggests that Hong Kong Indigenous, or similar candidates, are well placed to win seats in the autumn elections," said Danny Gittings, an associate law professor at HKU Space. He called it very bad news "for moderate members of the pan-democratic camp."
Hong Kong Indigenous is part of a small but growing push for independence, a position that could raise tensions between the former British colony and Beijing. Proponents see an erosion of the "One Country, Two System" concept that the U.K. agreed to before returning Hong Kong, with many localists favoring a more forceful response than the largely peaceful pro-democracy "Occupy" protests of 2014.
'No Retreat'
The tactics of some localists shocked the city on Feb. 9, when a confrontation with police turned into a riot in the Mong Kok area that injured more than 90 officers. Leung was arrested on a rioting charge after the clashes and released on bail.
"We acknowledge that quite a lot of Hong Kong people really recognize our way of protest, really recognize our vision and they agree with it," Leung told Radio Television Hong Kong. "Those numbers are the number of people who support us participating in those forceful protests. It is a clear message to the government that we Hong Kong people, especially our generation, we will not retreat."
Beijing's top representative in Hong Kong, Zhang Xiaoming, branded the rioters as "radical separatists" who were "inclined toward terrorism." That put them in the same category as the most extreme dissidents of Tibet and Xinjiang, where reports of deadly clashes between Communist Party security forces and ethnic minorities are common.

Leung had been expected to get 12 percent of the vote, according to a poll of 506 registered voters surveyed between Feb. 22 and Feb. 23 by Hong Kong University's Public Opinion Program for radio station D100.
Civic Passion, another pro-independence party, plans a press conference Monday to outline its strategy for the September elections. The group's leader, Wong Yeung-tat, told Bloomberg News last week that it plans to field three candidates in an alliance with Horace Chin Wan-kan, an academic, and incumbent lawmaker Raymond "Mad Dog" Wong Yuk-man, who's unrelated to Wong Yeung-tat. 
The movement has been fed by concerns over China's encroachment in Hong Kong, which have risen in recent months after the disappearance of five booksellers linked to a shop that sold often salacious titles critical of China's leaders.
Banned Books
The disappearance of the owner of Causeway Bay Books, Lee Bo, from Hong Kong in late December prompted protests in the city. Police in China have confirmed Lee was on the mainland assisting in an investigation, while Hong Kong authorities said they have no record of Lee crossing the border.
Another among the missing, Gui Minhai, penned many titles sold at the shop and disappeared from Thailand in October. He re-emerged in China in January and said in a televised confession that he had turned himself into authorities over a fatal 2004 traffic accident. Gui is now facing charges of illegally publishing books in China, the Paper, a mainland-based online news site, reported Sunday. Gui was suspected of illegally selling 4,000 books through the mail, the site said.
Three other booksellers who disappeared while in the mainland in October will be released after admitting to participating in the selling the books, the Hong Kong-based Sing Tao Daily newspaper reported separately. A person who answered the phone at the Guangdong Provincial Public Security Department said no more information on the cases was available.
Railway Project
The outcome of Sunday's by-election will preserve the stalemate between pro-democracy forces and the dominant pro-Beijing camp that has contributed to gridlock in the legislature. The pro-democracy camp hold 27 seats on the Legislative Council, enough to block big policy initiatives.
On Saturday, lawmakers failed to vote on a bill to provide an additional HK$19.6 billion ($2.5 billion) for a high-speed railway project linking the city the mainland, which has been plagued by cost overruns and delays. Pro-democratic lawmakers have also been demanding explanations of plans to allow mainland immigration officials to set up positions on the Hong Kong side. The government is holding an emergency meeting Monday to considering halting the project.
Before it's here, it's on the Bloomberg Terminal.
LEARN MORE