New York City's Salt War Heats Up With Emergency Reprieve
by
City required warning on items with 2,300 milligrams of sodium

Restaurants win legal relief one day before $200 penalties due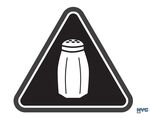 Why not make restaurants slap a sodium warning on salty menu items and save some lives? Turns out it isn't so easy.
A trade group fighting the rule, which New York City put in place late last year, won an emergency reprieve on Monday, one day before the city was set to start issuing fines for violations. It's the latest twist in a bitter back-and-forth between New York and the National Restaurant Association that harks back to the city's efforts to ban trans fats, require calorie counts on menus and limit the size of sugary sodas. 
New York in December became the first U.S. municipality to require restaurant chains to post the warnings on menus, forcing eateries with 15 or more locations nationwide to place a triangular salt-shaker icon beside items with at least 2,300 milligrams of sodium. Starting on Tuesday, violators were due to face fines as high as $200 for each infraction.
"Some people just love salty foods, and they're going to go ahead and eat those foods regardless of whether they have a salt icon next to them," Justice Eileen Rakower said last week in denying the restaurant group's bid to block the labeling rule. "It's not a ban. It's information. It's a warning."
Monday's decision, by Associate Justice David Friedman, granted the trade group's request to delay enforcement of the rule pending review by a larger panel of appeals judges.
The National Restaurant Association, which represents more than 500,000 businesses, said in response that the salt rule is "unlawful and unprecedented" and that it looked forward to making its case before the appellate court. The city said that it is confident the court will uphold the regulation and that the sodium warning "remains critical information New Yorkers need to protect their hearts and their health."
2,300 milligrams
The threshold of 2,300 milligrams of sodium, about a teaspoon's worth, is the recommended daily limit for adults in the U.S. High sodium levels can lead to high blood pressure and increase the risk of heart attack and stroke, New York City's Health Department has said, citing U.S. dietary guidelines and the Institute of Medicine studies. One in three New York City deaths is due to heart disease, the department has said.
The requirement was crafted by Mayor Bill de Blasio's administration and continues the efforts of his predecessor, Michael Bloomberg, to improve public health through government mandates on trans fats and calorie counts. 
"If your meal has so much sodium that it merits a salt shaker on the menu, then -- for the sake of your health -- order something else," the mayor, a Democrat, said on Twitter after last week's ruling.
'Lifestyle Choices'
To the National Restaurant Association, the issue isn't whether high levels of sodium lead to hypertension and heart disease but whether the city's Board of Health had the authority to enact the rule. 
Allowing the salt labels would enable the city to issue similar warnings for other "lifestyle choices" that might have negative health effects, such as watching television for extended periods of time or sitting too long while working, S. Preston Ricardo, an attorney for the National Restaurant Association, told Rakower last week, calling it "way too overbroad."
While the trans-fat bans and calorie counts survived similar legal challenges, the state's highest court blocked the soda measure. Bloomberg, the founder and majority owner of Bloomberg LP, the parent company of Bloomberg News, had asked restaurants and food makers to voluntarily reduce the amount of salt in their menu items.
The case is National Restaurant Association v. New York City Department of Health, 654024/2015, New York State Supreme Court, New York County (Manhattan.)
Before it's here, it's on the Bloomberg Terminal.
LEARN MORE