Restrained Modi Budget Boosts Odds Rajan Will Cut India Rate
by and
12 of 16 economists in Bloomberg survey see cut before April 5

Jaitley: ``Prudence lies in adhering to fiscal targets"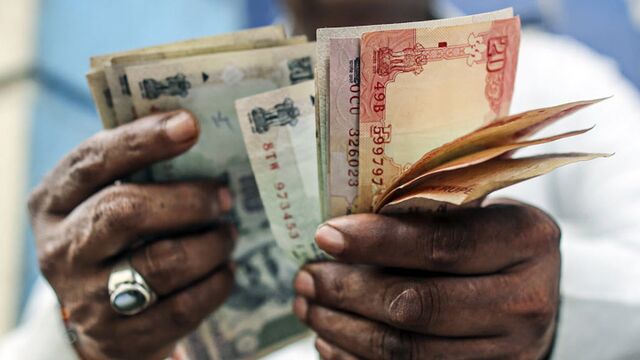 Prime Minister Narendra Modi's pledge to further shrink India's budget gap in 2017 stoked speculation that -- like last year -- the central bank will cut interest rates as a reward for politicians steering away from a spending binge.
Finance Minister Arun Jaitley said the budget gap will narrow as targeted to 3.5 percent of gross domestic product in the year starting April 1, the smallest since 2008. In choosing between boosting growth and retaining stability, Jaitley said he "decided that prudence lies in adhering to fiscal targets."

Twelve of 16 economists polled by Bloomberg after the budget speech expected central bank Governor Raghuram Rajan to cut India's benchmark rate by as many as 50 basis points before the next scheduled meeting on April 5. The other four saw him reducing rates sometime this year, following China in further easing monetary policy.
"It certainly increased the chance of another modest rate cut given that the RBI was looking for the finance minister to stay on the path of consolidation," said Shilan Shah, Singapore-based India economist at Capital Economics Ltd. "The question mark over all of this really is how it's going to be financed."

The credibility of the pledges will depend on perceptions of spending and revenue details unveiled after Jaitley's speech, which was filled with measures to help farmers suffering after India's first back-to-back droughts in three decades. Modi, who faces as many as nine state elections in the next fiscal year, also needs lower borrowing costs to deal with about 8 trillion rupees ($117 billion) in stressed assets and 5 trillion in debt at power producers.
Rajan last month said monetary policy remained accommodative, adding that he'd be watching inflation and the budget before deciding on his next move. He had warned of higher bond yields if Modi strayed from the deficit-reduction path, calling macroeconomic stability India's "single most important strength" in a time of global market turmoil.
The S&P BSE Sensex index pared earlier losses of as much as 2.9 percent and closed 0.7 percent lower. The rupee strengthened 0.3 percent as of 3:49 p.m. in Mumbai while the yield on the benchmark 10-year sovereign bond fell 15 basis points to 7.63 percent after Jaitley stuck to his deficit targets.
Crunching the Numbers
As economists crunched the data in the budget, some thought the numbers checked out while others were more skeptical.
"Overall the math seems credible to us," Citigroup economists led by Samiran Chakraborty wrote in a note. On the revenue side, tax revenue growth looked "conservative" while expectations of 1 trillion rupees from telecom auctions were "a wild card," they wrote.
Sonal Varma, a Mumbai-based economist with Nomura Holdings Inc., called the budget "a positive surprise" while flagging that wage increases for government employees looked to be underbudgeted and may lead to higher spending later. Australia & New Zealand Banking Group Ltd. analysts said "the underlying math is not as robust as what we would've liked," adding that the growth in capital spending was less than expected.
Total revenue is projected to rise 11 percent next year, more than the average during the past three years. Spending on roads and ports is slated to rise 15 percent -- about triple the average over the past three years. Spending on subsidies is forecast to fall for the first time since at least 2009, with the increase in spending on salaries and pensions stable at 9 percent despite planned pay hikes for government employees and soldiers.

Receipts:
| | | | |
| --- | --- | --- | --- |
| | Budgeted | Achieved | Growth |
| FY16 | 17.8 trillion | 17.8 trillion | 0% |
| FY17 | 19.8 trillion | | 11% |
Plan Expenditure (includes roads, ports):
| | | | |
| --- | --- | --- | --- |
| | Budgeted | Achieved | Growth |
| FY16 | 4.6 billion | 4.8 billion | 3% |
| FY17 | 5.5 billion | | 15% |
Non-plan Expenditure (includes salaries, subsidies):
| | | | |
| --- | --- | --- | --- |
| | Budgeted | Achieved | Growth |
| FY16 | 13.1 trillion | 13.1 trillion | 0% |
| FY17 | 14.3 trillion | | 9% |
Meeting next year's fiscal deficit target hinges on enhanced revenue from a recovery in corporate profitability and rural consumption, according to Atsi Sheth, an analyst at Moody's Investors Service. Kyran Curry, an analyst with Standard & Poor's Ratings Services, said the government may have to cut capital spending to contain the deficit if growth, interest rates and food prices differ from budget assumptions.
The budget speech was geared mostly at rural areas with about 70 percent of the nation's 1.3 billion people. Jaitley called for doubling farmer income in five years, expanded investments in irrigation, a revamped crop insurance program and an unprecedented amount of farmer credit. He also boosted spending on a rural jobs program and proposed a new health insurance scheme.
"We have a desire to provide socio-economic security to every Indian, especially the farmers, the poor and the vulnerable," Jaitley said.

Other key measures included more spending on rural roads, easing foreign investment rules in sectors such as food processing and a commitment to recapitalize state-run banks as needed. The government also said companies like Vodafone Group Plc and Cairn Energy Plc would have the option to settle past disputes arising out of retrospective taxation.
While India's forecast growth rate of 7.6 percent is the highest among emerging markets, other indicators suggest economic weakness. Bank credit growth is at its lowest level in at least 15 years, and total investment as a percentage of GDP hit a 12-year low in 2015, according to the International Monetary Fund.

In heeding Rajan's advice, and Modi will now be looking for a reward to boost growth.
"The finance minister has delivered on what he was asked to deliver," Arvind Panagriya, a Modi appointee who runs Niti Aayog, a government advisory body, told Bloomberg TV India. "Now it is the turn of the central bank."
Before it's here, it's on the Bloomberg Terminal.
LEARN MORE