U.S. Stocks Rally With Emerging-Market Assets as Crude Tops $34
by and
S&P 500 extends climb after factory, construction data

Treasuries retreat with yen as demand for havens wanes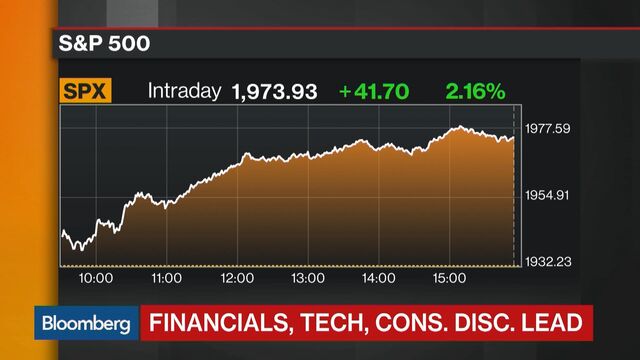 U.S. stocks rallied to a seven-week high after data indicated manufacturing in the world's largest economy may be stabilizing, while optimism that central banks from Asia to Europe will add to stimulus supported emerging-market currencies and commodities.
The Dow Jones Industrial Average surged more than 340 points, while the Standard & Poor's 500 Index rebounded from a two-day drop, climbing back to a level last seen at the start of the year. A gauge of emerging-market shares advanced the most since Feb. 15 as the ruble and Brazil's real strengthened. Yields on 10-year Treasury notes jumped nine basis points to 1.83 percent, while gold fell following its steepest monthly rally since 2012. Crude topped $34 a barrel in New York, while the yen pared back some gains.

While February marked a fourth consecutive monthly slide for global stocks, signs that financial tension in China and a slump in commodities are abating has seen shares recover more than 5 percent since Feb. 11. Data suggesting that American consumers can still power the world's largest economy and hints from central banks in Asia and Europe that more stimulus is at the ready underpinned the revival.
U.S. equities got a boost after data showed American factory activity in February shrank less than forecast as gains in new orders and production provided signs that the beleaguered industry could soon stabilize. Manufacturing should also find a source of strength in domestic demand, which is being boosted by consumers with solid job gains and a nascent pickup in wage growth. A rebound in oil prices in the final two weeks of February also helped stabilize equity markets.
"The numbers today were pretty decent with manufacturing up from estimates and the construction numbers were pretty good as well so if inflation keeps moving over the next few months that could be a good thing as we started the year talking about negative rates and deflation," Mark Kepner, an equity trader at Chatham, New Jersey-based Themis Trading LLC, said by phone. "Financials are also bouncing back after getting beat and as we get some stability in oil prices, things are looking a little better."
Stocks
The S&P 500 climbed 2.4 percent to 1,978.35 as of 4 p.m. in New York, rallying from a decline Monday that erased its gain in February. The index's three-month decline is the longest since 2011, though its 8.2 percent surge since Feb. 11 has cut the loss in 2016 by more than half. 
Financial companies led stocks higher Tuesday with a 3.5 percent advance, the biggest gain since Feb. 12. Northern Trust Corp. climbed 5.3 percent and Legg Mason Inc. added 5.8 percent as all but two stocks in the group rallied.
Auto stocks advanced, with Ford Motor Co. surging 4.6 percent and Fiat Chrysler Automobiles NV jumping 5.3 percent after their February sales beat analysts' estimates. General Motors Co. gained 1.9 percent.
The Stoxx Europe 600 Index climbed 0.8 percent, with all industry groups rising at least 0.8 percent. The European equity benchmark has rebounded more than 11 percent since falling to a 2013 low on Feb. 11, led by miners and energy producers.
BMW AG gained 4.2 percent after its chief executive officer forecast another year of record sales, and Daimler AG climbed after its CEO noted strong growth in Europe and China. London Stock Exchange Group Plc surged 7.2 percent after Intercontinental Exchange Inc. said it's considering a bid for the company that's in merger talks with Deutsche Boerse AG.
Gains from Japan to Australia bolstered the MSCI Asia Pacific Index for the first day this week, rising 0.6 percent amid rallies in energy and mining stocks.
Emerging Markets
MSCI's Emerging Markets Index rose for a third day, climbing 1.7 percent to its highest level since Jan. 6. The Hang Seng China Enterprises Index of mainland Chinese shares traded in Hong Kong increased 1.9 percent, while the Shanghai Composite Index advanced 1.7 percent, the most in a week. The Ibovespa advanced to its highest point this year in Brazil, which counts China as its biggest trading partner.
Data out of China Tuesday showed a purchasing managers' index of manufacturing contracted more than was estimated in February, matching the lowest level in seven years, according to the statistics bureau. China's parliament will gather on Saturday for an annual meeting, where plans for 2016 and the next five years will be outlined.
The yuan snapped a seven-day decline in Shanghai after the People's Bank of China boosted a reference rate used to manage the currency by 0.1 percent to 6.5385.
"With a stronger fixing, they're trying to ensure a stable yuan even as they ease policy through the reserve-requirement-ratio channel," said Khoon Goh, a foreign-exchange strategist at Australia & New Zealand Banking Group Ltd. in Singapore.
India's S&P BSE Sensex jumped 3.4 percent, the most since 2013, after Prime Minister Narendra Modi unveiled a pro-farmer budget on Monday, setting aside 877.7 billion rupees ($12.9 billion) toward expanding irrigation, crop insurance, rural roads and for improving groundwater resources.
Currencies
The yen dropped against all 31 major peers, falling from its strongest level in almost three years against the euro. The currency weakened 1.1 percent to 113.87 per dollar and slipped 1 percent to 123.80 per euro. Canada's dollar strengthened 0.9 percent against its U.S. counterpart.
A Bloomberg gauge of 20 emerging-market currencies increased 0.9 percent, rising for a second day. Russia's ruble was the best performer, strengthening 2.4 percent, followed by a 2.1 percent increase in the real and the Colombian peso's 2 percent climb.
Commodities
U.S.-traded oil extended gains from its highest settlement level in more than seven weeks following the first monthly decline in production from the Organization of Petroleum Exporting Countries since November. West Texas Intermediate rose 1.9 percent to $34.40 a barrel in New York.
Gold slipped from a two-week high after the U.S. economic data dented demand for haven assets. Nickel led gains in industrial metals, rising 1.9 percent in London, as China cutting the reserve-requirement ratio for local banks bolstered confidence in the world's second-largest economy. Lead climbed 1.4 percent.
Bonds
Treasuries tumbled after the manufacturing data provided a sign of resilience in the U.S. economy. The decline came in the wake of U.S. government securities returning 3 percent in the first two months of this year, their biggest back-to-back gain since January 2015, according to Bloomberg World Bond Indexes.
Germany's bonds fell as demand for haven assets waned. The Japanese government got paid to borrow money for a decade for the first time, selling 2.2 trillion yen of debt at an average yield of minus 0.024 percent on Tuesday. The benchmark 10-year bond yield dropped to minus 0.075 percent after the auction, matching a record low.
Before it's here, it's on the Bloomberg Terminal.
LEARN MORE