business
Irish Bonds May Fall as Election Produces No Clear Winner
By and
Nation's bonds returned about 92 percent since 2011 election

PM Enda Kenny may need to pursue a historic grand coalition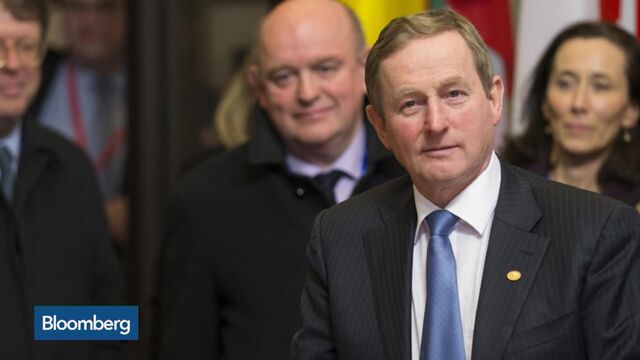 Irish bonds may fall on Monday, as the nation faces into a period of political instability after Prime Minister Enda Kenny's coalition lost its majority in a general election.
Kenny's government suffered massive losses in Friday's vote, leaving an unprecedented grand alliance with traditional rival Fianna Fail as the only prospect for stable government. Kenny and Fianna Fail's leadership ruled out a coalition before the election, though both took a less definitive line once the inconclusive outcome became clear.
"Bonds will probably open up marginally weaker given the uncertainty of the outcome," said Ryan McGrath, head of fixed-income strategy at Cantor Fitzgerald LP. "There will be huge pressure on Fine Gael and Fianna Fail to come together or, if they don't, to go to the polls again immediately."
Irish bonds returned about 92 percent since the last government took office in March 2011, the best performance in the world and more than twice the average for the euro region, according to Bloomberg indexes. Under Kenny, Ireland exited an international bailout, shrank its budget deficit and reclaimed a position as the euro area's fastest growing economy.

The yield on Ireland's 10-year bonds has fallen below 1 percent from 14.2 percent at the height of the financial crisis in 2011. Still, the spread between benchmark bonds and German securities of a similar maturity has increased to 76 basis points from 44 basis points six weeks ago, as uncertainty mounted over the election.
By late Sunday in Dublin, 146 of the 158 seats had been filled. Kenny's Fine Gael had 46 seats, Fianna Fail had 42, with Sinn Fein taking 22. The Labour Party had 6, down from 37 in 2011. Seventy-nine seats are needed for a majority.
During the campaign, Kenny pointed to political instability elsewhere in the euro region as an example of the dangers of an inconclusive election. Portugal took weeks to form a government after there was no clear winner from an Oct. 4 election, while Spain is still without one more than two months after Prime Minister Mariano Rajoy lost his majority. Spain's 10-year bond yields 1.6 percent, while Portugal's benchmark yields 3.1 percent.
"Bonds may be lower on Monday," Eoin Fahy, chief economist at Kleinwort Benson Investors in Dublin said. "But the main risk, that Sinn Fein could be in government has disappeared, so probably not significantly lower."
Before it's here, it's on the Bloomberg Terminal.
LEARN MORE