India Budget 2016: Winners and Losers
by
Farmers, poor families, state-run banks have reason to smile

Smokers, luxury car drivers, and coal producers get smacked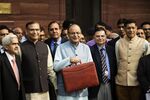 India's annual budget is one of the nation's most closely watched events -- not just for the numbers, but for the political message during a speech that runs for about 90 minutes.
This year rural villagers came away as undisputed winners, with Finance Minister Arun Jaitley announcing plans to "transform India for the benefit of the farmers, the poor and the vulnerable." That was expected: Prime Minister Narendra Modi lost a key state election in November, and faces as many as nine more contests next year. Here are the winners and losers.
WINNERS:
Farmers -- pledges to double income of farmers by 2020, allocates 360 billion ($5.3 billion) to agriculture and farmers' welfare; steps to ensure a greater share of retail food prices reach producers; announces 200-billion-rupee irrigation fund and record 9 trillion in credit for farmers. Affected companies include Shakti Pumps India Ltd., Jain Irrigation Systems Ltd.
Poor families -- 100 percent of households to have cooking gas within three years; 100 percent of villages to have electricity by May 1, 2018.

State-run banks -- 250 billion rupees to recapitalize government-controlled banks. "If additional capital is required by these banks, we will find the resources for doing so," Jaitley said. "We stand solidly behind these banks." Shares of State Bank of India Ltd. and Bank of Baroda could be affected.
India's biggest commodities exchange -- MCX Ltd. headed for a three-week high on the budget's proposal to expand foreign direct investment in the exchanges.
Housing developers -- 100% deduction in profits for affordable housing projects approved by March 2019. Projects must be built within three years. Shares of DLF Ltd., Unitech Ltd. could benefit.
Tax litigants -- one-time dispute resolution scheme for those involved in retrospective tax disputes to pay only arrears; interest, penalty to be waived. Vodafone Group Plc, Cairn India Ltd. could gain.

Infrastructure projects -- allocates 2.21 trillion rupees in total outlay for roads, railways and ports. Larsen & Toubro Ltd., India's biggest engineering company, could see a boost.
Energy industry -- "calibrated" market-based pricing to incentivize deep sea hydrocarbon exploration; 30 billion rupees a year to boost nuclear power investment. Reliance Industries Ltd., Oil & Natural Gas Corp., Oil India Ltd. could benefit.
Startup Investors -- Profits made after two years of holding exempt from capital gains tax, compared with three years earlier. Move to benefit angel investors, seed funds and other early backers of startups.
LOSERS:
The High Rollers -- 1 percent cess on luxury cars valued at 1 million rupees or more; surcharge on income tax raised to 15 percent from 12 percent on those earning 10 million rupees or more a year; additional 10 percent tax on those earning 1 million rupees or more in dividend income.
Coal producers -- tax on coal production to double to 400 rupees per ton. Companies affected include NTPC Ltd., Tata Power Co., Adani Power Ltd.
Smokers -- taxes on cigarettes to be hiked as much as 15 percent. Affected stocks include ITC Ltd., India's biggest cigarette maker, and Godfrey Phillips India Ltd.
Carmakers -- an infrastructure cess ranging from 1 percent to 4 percent on vehicles to help combat pollution. Shares of Maruti Suzuki India Ltd. fell to a 16-month low.
Jewelry makers -- Excise duty on jewelry and higher threshold for exempt purchases. Companies affected include Titan Co.
Before it's here, it's on the Bloomberg Terminal.
LEARN MORE