Goldcorp's New CEO Switches His Focus to Internal Projects
by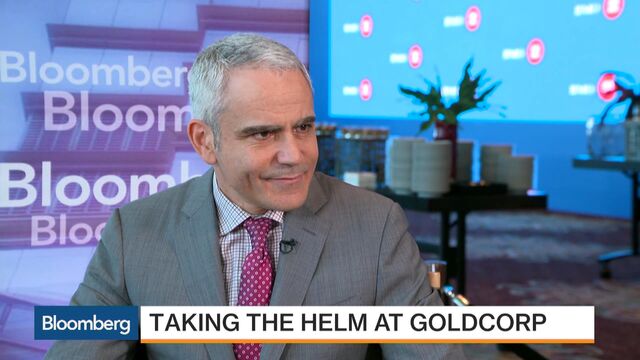 The new head of Goldcorp Inc. is ushering in his reign with a switch in focus.
David Garofalo, whose first day as chief executive officer was Monday, said the company is focused on its internal pipeline of projects for growth in gold production. That's a change from as recently as January, when he said the third largest gold miner by market value planned to look to Africa and Europe for opportunities to expand. Currently, all of the company's operations are in the Americas, including Canada, Mexico and Argentina.
The change in tone comes after posting disappointing financial results last week. The fourth-quarter net loss widened to $4.3 billion from $2.4 billion a year earlier, including an impairment charge of $3.9 billion, net of tax. The Vancouver-based company also reduced its dividend.
"We're generating free-cash flow so we're able to finance projects" in the company's internal pipeline, Garofalo said Monday in an interview on Bloomberg Television from a conference in Hollywood, Florida.
He estimated the company would generate $400 million in annual free-cash flow at current gold prices. Bullion for immediate delivery has surged 17 percent this year to about $1,238 an ounce. At $1,100, Goldcorp would generate $200 million cash, he said.
Stable Dividend
In a January interview, Garofalo repeatedly mentioned Africa as an attractive possibility. During Monday's television interview, the new CEO maintained that the main focus for the company is the existing pipeline, which consists of eight projects, he said.
The annual dividend was cut to 8 cents a share, paid on a quarterly basis, the company said. The company previously paid 2 cents a share monthly.
The new dividend is "absolutely" stable, Garofalo said.
Before it's here, it's on the Bloomberg Terminal.
LEARN MORE