Gold Assets in World's Top ETP Reach Highest Since September '14
by
Gold assets held in the world's biggest exchange-traded product backed by the metal climbed to the highest since September 2014.
Holdings in SPDR Gold Shares jumped 2 percent on Monday to 777.27 metric tons. The assets surged 16 percent in February, the biggest monthly gain in seven years. SPDR has attracted $4.55 billion of new money in 2016, the most among all U.S.-listed ETFs, according to data compiled by Bloomberg as of Feb. 28.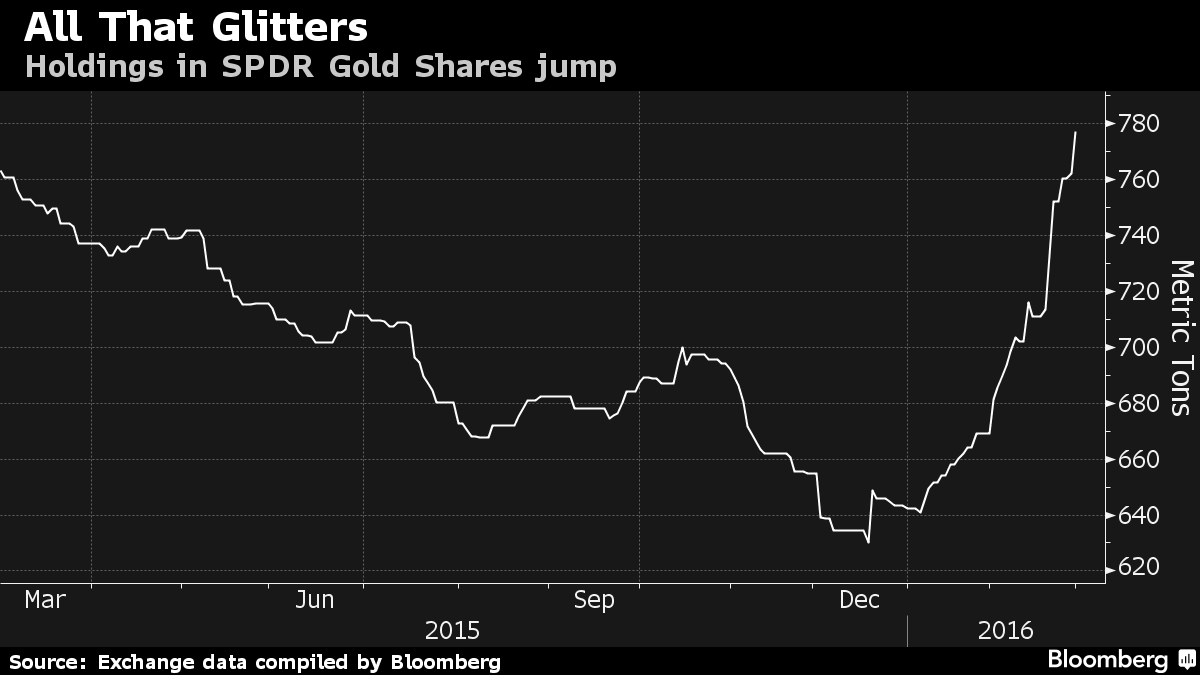 The precious metal is the year's best-performing major asset. Its 16 percent gain is topping gauges of high-yield and investment grade bonds, Treasuries, all currencies and major stock indexes in developing and emerging countries. Turmoil across global equity and currency markets has sparked demand for a haven.
"People tend to buy gold when they're fearful about things," said Brian Barish, the chief investment officer of Denver-based Cambiar Investors LLC. "Obviously, markets have not done very well year-to-date around the world."
QuickTake The Rise and Fall of Gold
Gold futures jumped 11 percent in February to $1,234.40 an ounce on the Comex in New York. That's the biggest monthly advance since 2012.
Global holdings in gold ETFs surged 15 percent in 2016 to 1,682.6 metric tons. That's the highest since Oct. 2014, and the assets are on pace for the biggest quarterly increase since 2010.
Deteriorating global economies have increased concerns that the slowdown will be a drag on U.S. growth, raising gold's appeal as a safety asset. At the same time, there is increasing doubt that the Federal Reserve will move as quickly as it planned to raise interest rates because the expansion may weaken. That increases the allure of bullion as a store of value.
Before it's here, it's on the Bloomberg Terminal.
LEARN MORE