Gold Allure Burnished by Fed Outlook as Treasuries Lag: Analysis
Gold demand may rise as monetary policy exhaustion takes hold.
by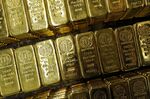 U.S. Treasury 10-year futures may continue to underperform gold over the medium-term in a global fixed-income environment punctuated by negative rates as the relative opportunity cost of holding the yellow metal decreases, Bloomberg strategist Tanvir Sandhu writes.
Even as market bets of reversal of the Federal Reserve policy direction increases, the ratio of Treasury futures and gold pierced through a key technical level earlier this month, signaling the commodity may retain an edge.

The ratio is now at a eight-month low, after breaching the 200-day moving average which underpinned it most of last year.
Historical pricing shows gold retains a greater room for upside while Treasury futures hovers near all-time high.
Haven demand applies to both gold and Treasury futures. But expectations of negative rates amid renewed talk of U.S. recession may weaken the dollar, boosting appeal for gold priced in greenbacks.
Eurodollar option contracts show bets that the Fed will adopt negative interest rates in 2017 have more than doubled since early January, with aggregate open interest across 2017 contracts rising to about 336,000 from year-to-date low of less than 160,000 on January 7.
To be sure, there may be a near-term correction to the ratio with DeMark indicators close to trend reversal on the daily and weekly charts.
Similar signals occurred in March and July 2014 when it pushed up the ratio.
Dollar's elevated levels may have a bearing on Fed's rate path as U.S. financial conditions tighten, amid fragile risk sentiment, even while central banks around the world indulge in competitive devaluation.
Gold call skew is now deepening as upside strategies take hold. Three-month call option with 110 percent strike price relative to a put option with 90 percent strike price is the highest since 2011.

As potential for further yuan devaluations weigh on Fed's ability to reflate the economy, haven demand may resume, prompting investors to use the current stocks rally to derisk.
Bank of Japan joined the ranks of European Central Bank, Riksbank, Swiss National Bank and Danish central bank in adopting negative rates as global nominal growth remains subdued.
Note: Tanvir Sandhu is a cross-asset derivatives market strategist who writes for Bloomberg. The observations he makes are his own and are not intended as investment advice.
Before it's here, it's on the Bloomberg Terminal.
LEARN MORE