This Chinese Executive's Big Idea Came to Him in Jail
by
Took 'garbage assets' and turned them into profitable business

New SOE reforms in works at National People's Congress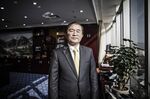 Struck by a sudden inspiration for a business plan while cooped up in a room at a southern China detention center, entrepreneur Liu Minghui turned to the only people nearby for feedback -- his jailer and 11 cell mates.
Even during Liu's yearlong detention on what turned out to be false allegations of embezzlement, the founder and executive chairman of China Gas Holdings Ltd. couldn't wait to remake the company after his eventual release. 
The jail-house idea? Dispatch the company's tens of thousands of gas-meter readers to knock on the doors of its 20 million customers and sell them a range of other services -- everything from insurance to food delivery.
While the jailer and his cell mates couldn't fully grasp the plan's value, Liu was convinced company profits would soar once he re-purposed its army of meter readers into a network of door-to-door sales people.
"I was afraid," Liu said in an interview almost five years after he was detained in December 2010. "I was frightened and thought about the possibility that I may never get out of jail, but at the end of the day you have to find a way to keep your head up. Otherwise the experience of staying in jail alone may ruin you."
Liu, 52, did so by sustaining a laser-like focus on the blueprint to transform his company, and the nimble strategic changes by private-sector China Gas positioned it to benefit from reforms sweeping China's state-owned enterprises sector. Now more changes are coming: Delegates at this year's National People's Congress in Beijing, which starts March 5, will debate new reforms of state-owned enterprises.
Those reforms pose risks for executives like Liu who test the waters. As China pries the economy away from its dependence on bulky state-owned firms, its leaders have displayed an ambivalence toward the entrepreneurs it depends on to build a new economy. Their allegiance regularly comes under suspicion because they advocate the power of markets.
'Mostly Unsuccessful'
Liu's transformation -- from an against-the-grain entrepreneur to established executive to criminal suspect and back again -- is a cautionary tale that may offer lessons for others.
A native of the northern province of Hebei, Liu's early career was spent as a government official responsible for luring foreign investment to the area. He witnessed the shrinking of state-owned enterprises that would result in millions of furloughs in the 1990s as China's leaders including Deng Xiaoping and former Premier Zhu Rongji allowed market forces and private businesses a greater role in the economy.
"You have to trust the market," Liu said, a refrain he would repeat multiple times.
Imbued with the belief that markets reflect people's natural instincts to improve their lives, Liu left his government job to form a company aimed at making state-owned firms competitive.
It was a struggle. While Liu's company found investors for a number of different state-owned enterprises, executives lost interest in proposed changes after the money was transferred. 
"They wanted our money, not our principles," Liu said. As a result, the projects were "mostly unsuccessful."
By 2000, Liu changed strategy and began looking for opportunities to invest in businesses that state-owned enterprises didn't want. That's when he found natural gas and started buying money-losing gas distribution businesses. 
Early Adopters
Liu and his business partners responded quickly to an earlier series of reforms aimed at discarding SOE's unprofitable businesses. Having bought a Hong Kong-listed company and renaming it China Gas Holdings in 2002, they collected money-losing operations from city governments and built the company into China's biggest natural gas distributor by 2016 with a market capitalization of $6.6 billion.
In most countries, a success story like that would be inspiring. Even in the bustling southern Chinese city of Shenzhen, however, Liu's success offered no protection from accusations that he had embezzled company funds.
"We never dismissed one worker in the process" of building the company, Liu recalled. "In fact, most of the employees liked the change because it made them more money while bringing out a better performance from their old selves. The change of system changed people's mindsets."
That outlook may be what China needs as companies look to deliver on President Xi Jinping's economic reforms. In the latest round affecting the energy industry, private capital will be allowed to invest in areas dominated by state-owned firms.
'Last Mile'
A betting person might have wagered against China Gas at the start. Armed with little more than a vision, Liu set out across the country to buy the so-called "last mile" gas piping operations from city governments, the link from natural gas depots to homes and businesses. Local authorities were keen to unload these money-losing assets.
 
Liu's method of remaking old-style distributors was simple. He kept a couple administrators in the office and sent everyone else out in search of business. He discarded "iron rice bowl" protections typical at state-owned firms and gave employees clear sales targets.
Liu bet he could make these operations profitable. To encourage workers, Liu recalls telling them that municipalities would be eager to sell these assets now but might regret it later. Then China embarked on a campaign of rapid urbanization, with each new building connected to a gas pipe, making his collection of assets suddenly valuable. Profits increased and word spread that Liu could turn things around.
"We're going to make this business so profitable that they'll try to take it all away from us," he told his employees. Those comments proved prescient, but first the company would suffer an unexpected blow.
Yearlong Detention
In December 2010, as Liu met with colleagues at the company's 18th floor headquarters in Shenzhen, authorities arrived unannounced. They said they wanted to take him into custody as part of a "state secrets" probe, he recalled.
They led him away and held him in a room at a detention center in Shenzhen for months without contact with his family or lawyers. Liu had no idea how long he'd be detained. At one point, he dreamed that his father had died. Only after he was released did he learn it was true.
"There is nothing worse than being thrown into jail, and losing freedom can change a person's perspective on life," Liu said. "Suddenly so many things that you took for granted every single day become a luxury."
After a year in detention, officials finally told Liu his incarceration was a mistake and released him. He had little time to celebrate, however, before facing a hostile takeover bid. His detention had sparked a dramatic sell-off of China Gas shares and within weeks of his release, the giant state-owned China Petroleum & Chemical Corp. bid to take over the company. To keep control, Liu had to convince his shareholders he was a better bet to generate profits.
"In either life or business, there are so many things you don't have control over at all," Liu said.
Undervalued Meter-Reader
Although he acknowledged past turmoil, Liu is now focused on the future, eagerly demonstrating how to use the company's latest initiative -- a mobile phone app to place ongoing service orders -- that the company will roll out in March.
"We are the Alibaba of the gas distribution business, and I see China Gas as a public service company that caters everything our customers may need," Liu said. "Natural gas is just one of our services but definitely won't be the main part of what we do. We want to be that service boy who knocks on every door of our customers, asking what can we do for you."
Today, China Gas Holdings' management faces new challenges. Executives discuss whether the company can survive the country's slowest economic growth in a quarter century.
"Every time our management met, I asked the question, can we stay alive in the business tomorrow and what may kill us or save us?" Liu said.
Although the company's stock is down nearly 25 percent from last year's peak, it has fared better than the broader market. Twelve of 18 analysts rate it a "buy," with five recommending "hold" and one a "sell." Shares rose 4.3 percent to close at HK$10.80 on Tuesday.
"It's a smart and strategic move for China Gas to enter the retail business through its existing network, as there are not a lot of companies that can legitimately open doors simply by knocking and saying who they are," Shi Yan, a Shanghai-based analyst at UOB Kayhian Investment Co., said of Liu's plan. Risks are low, she said, since China Gas won't lose its existing income even as it tests the waters with new services.
In 2014, the company started selling gas-related electric appliances and tools, and more recently added phone cards, rice and fruit.
In the new competitive landscape, Liu sees China Gas as a much different company than when it was founded. 
"To some extent, China Gas is the undervalued meter reader. We can knock on doors and sell our customers everything they may need," Liu said. "China Gas is not a utility. We are a service provider that sells everything that our 20 million customers may ever need. That's the future of China Gas."
Before it's here, it's on the Bloomberg Terminal.
LEARN MORE