Emerging Currencies Erase February Losses as Ruble Rises on Oil
by
Argentine peso falls after government accord with holdouts

Chinese stocks slide before central bank eases reserve ratio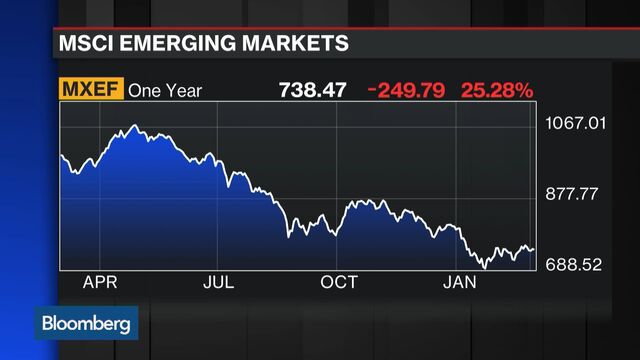 Emerging-market currencies erased a monthly loss as Russia's ruble and South Africa's rand gained with oil, while the rupee advanced on optimism India will stick to fiscal targets. Argentina's peso closed at a record low against the dollar after the government settled a lawsuit with creditors over its 2001 default.
A gauge of 20 exchange rates had its first monthly gain since October. The ruble rose as hedge funds increased bets the Russian currency will strengthen. The rupee advanced with local bonds after Indian Finance Minister Arun Jaitley said he would maintain his goal for the budget shortfall in the year beginning April 1. The lira strengthened after Turkey retained its investment-grade status. Shanghai-traded shares slid before China's central bank cut banks' cash reserve ratio. The stimulus measure buoyed Brazilian assets as it improved the outlook for raw materials.

An emerging-market selloff that began in late October is easing as stocks have rebounded 7.5 percent and currencies gained 2.7 percent from their lows in January. While factoring in the impact of lower commodity prices and the Chinese economic slowdown, investors have begun to look for buying opportunities in markets such as India and Turkey that benefit from lower oil prices and Russia where asset valuations are low.
"Emerging markets are trying to bottom," said Hertta Alava, who helps oversee about $326 million as the head of emerging markets at FIM Asset Management Ltd. "Considering how bearish the mood has been lately, a relatively weak scenario might be priced in already. So, there could be room for positive surprises."
Argentina Accord
Argentina's peso tumbled after the government reached a debt deal with creditors after a 15-year battle over the nation's $95 billion default. The nation's currency dropped 2.3 percent to 15.8367 per dollar. It has weakened 18 percent this year, the most among emerging-market currencies tracked by Bloomberg.
The index of emerging-market currencies against the dollar rose 0.3 percent to post its first monthly gain since October. The MSCI stocks gauge gained less than 0.1 percent, trimming its retreat in February to 0.3 percent. The equities benchmark trades at 10.9 times the projected earnings of its members, a 27 percent discount to the valuation for advanced-nation equities.
The lira gained 1 percent against the dollar as Fitch Ratings maintained its investment grade and stable outlook for Turkey. Fitch rates the country BBB-, the lowest investment grade. That's in line with the rating from Moody's Investors Service, which has a negative outlook. Standard & Poor's assigns Turkey its highest junk rating.
Rupee, Ruble
The Indian rupee strengthened after Jaitley said the budget gap will narrow as targeted to 3.5 percent of gross domestic product in the year starting April 1, the smallest since 2008. Twelve of 16 economists polled by Bloomberg after the budget speech expected the central bank to cut India's benchmark rate by as many as 50 basis points before the next scheduled meeting on April 5.
Russia's ruble strengthened 1.3 percent, narrowing a fourth monthly decline, as Saudi Arabia's statement about working with other producers to curb oil-price swings and China's central bank's cut on required reserve ratio helped boost crude.
The South Korean won fell 3 percent in February, its worst performance in seven months. Eight of 23 economists surveyed expect the central bank to cut its key interest rate from a record low 1.5 percent in March to support growth after exports shrank for 14 straight months. The Chinese yuan fell for a seventh day, the longest streak this year. 
Indonesia's rupiah climbed 3 percent this month, Asia's best performance, on optimism that an opening up of the economy to more foreign involvement will boost inflows.
Stocks
The Shanghai Composite Index lost 2.9 percent this month. The measure has declined 24 percent this year, the worst performer among 93 global equity indexes, on concern capital outflows will accelerate as the economic slowdown deepens. The Hang Seng China Enterprises Index of mainland stocks listed in Hong Kong dropped 1.5 percent on Monday.
In Sao Paulo, the Ibovespa rose for the first time in five days, rising 2.9 percent after China's decision on bank reserves. Commodity stocks including oil company Petroleo Brasileiro SA and iron-ore producer Vale SA rallied.
Indian sovereign bonds rose, driving the 10-year yield down by the most since May. The yield on notes due January in 2026 slid 16 basis points to 7.62 percent, prices from the Reserve Bank of India's trading system show.
Emerging-market dollar bonds advanced 1.7 percent this month, taking gains in 2016 to 1.5 percent, according to JPMorgan indexes.
Before it's here, it's on the Bloomberg Terminal.
LEARN MORE