Deutsche Bank Lays Out How the Top Presidential Hopefuls Could Help - or Hurt - the Market
What to expect following the first administration change in eight years.
by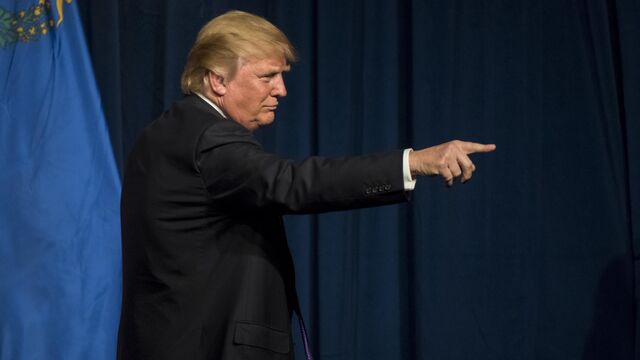 With the U.S. election cycle heating up, Wall Street is starting to think about the possible outcomes based on who takes the White House in November. 
Deutsche Bank is one of the first to lay out exactly how candidates' proposed policies will impact the market. The firm focused on the four politicians it believes are most likely to win based on current polling data: Hilary Clinton, Bernie Sanders, Donald Trump and Marco Rubio.
The Deutsche Bank team, led by Dominic Konstam, believes that the least amount of change in terms of policies would come from a Clinton win. "In our opinion, Clinton's policies would be most akin to those of the current administration; the remaining candidates would likely pursue meaningfully different policies," the note said.
The three remaining candidates would likely bring more dramatic shift for key policies including taxes, infrastructure spending, student debt, healthcare, and the minimum wage.
For Sanders, the biggest change would come from his trade proposals. "A more protectionist trade policy would benefit some American firms but would likely have a negative net effect on risk assets as higher prices would put downward pressure on real consumer spending," the team said.
When it comes to Trump, the analysts are skeptical that his tax policies are possible without lowering revenue, saying "The proposed tax cuts are ambitious and if it were indeed possible to achieve revenue neutrality with such low taxes, then one would not have to worry about the negative effects of contractionary fiscal policy on growth and therefore risk assets."
For Rubio, they suggest that his policies are also "bullish for risk and bearish for rates," but that balancing the budget would mitigate some of the bullishness for risk. You also have to consider the impact to the healthcare industry if one of the republican candidates is elected given the continued push from their base to repeal and replace Obamacare. 
Here's a full look at what they are predicting based on each candidate:

Wall Street and the general public will get a better idea of who the likely candidates will be come November as voters head to the polls in a number of states this week for what's known as Super Tuesday.
While Trump looks likely to come out on top for the Republican nominee, a notably absent candidate from Deutsche Bank's note is Ted Cruz who could yet pull a surprise upset. Marco Rubio has also arguably been gaining momentum as of late after what many called a strong debate performance last week. 
Before it's here, it's on the Bloomberg Terminal.
LEARN MORE