business
Swiss Voters Reject Initiative to Expel Foreign Criminals
By and
Initiative rejected by 59% to 41% amid high voter turnout

Referendums are part of Swiss tradition of direct democracy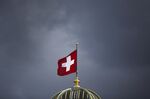 The Swiss rejected a popular initiative to deport foreigners convicted of crimes, culminating acrimonious campaigning that had opponents drawing comparisons with Nazi Germany and warning of damage to the economy.
Fifty-nine percent of voters said "no" to the so-called enforcement initiative, according to official statistics. It also failed to achieve the requisite majority of cantons. The most recent poll had indicated results were too close to call.

"The majority of the voters has come out in favor of the foreigners in our country," Justice Minister Simonetta Sommaruga said on Sunday in Bern. "Today was important for Switzerland because the majority of voters said that national law shouldn't supersede human rights."
The referendum, spearheaded by the anti-immigrant Swiss People's Party -- or SVP --, came amid rising apprehension across Europe about an influx of refugees from the Middle East. Sexual assaults involving asylum seekers in Cologne, Germany, only underscored that unease. Roughly a quarter of Switzerland's 8.2 million inhabitants aren't citizens.
High Turnout
Yet concerns the measure would upend constitutional due process of law and create a two-tiered judicial system led voters to reject the measure. Opponents of the initiative --- including Sommaruga and Foreign Minister Didier Burkhalter -- had warned it was inhumane, wouldn't improve public safety and went against international treaties.
QuickTake Switzerland's People Power
"I'd not play down the importance of this initiative," said Christian Levrat, president of the Social Democrats and a member of parliament. "It was about the rule of law, living together and the status of a quarter our fellow citizens, all those who don't have a Swiss passport. The answer of the people was as clear as glass."
Plebiscites are a key feature of Switzerland's political system, with referendums typically held four times a year. Voters on Sunday also rejected a measure that would have restricted speculation on foodstuff commodities and one on the taxation of married couples. They backed a plan to build a second automobile tunnel through the Gotthard.
Average voter turnout on Sunday was 62 percent, according to pollster gfs.bern. That's the highest since 1992.
EU Dispute
The enforcement initiative proved particularly controversial as it would have required not only deportation of foreigners convicted of crimes such as murder, but also the expulsion of those convicted of lesser offenses -- such as insulting a police officer -- if they have a prior criminal record. That would've set Switzerland up for yet another disagreement with the neighboring European Union, because a treaty between the two only allows for the expulsion of people deemed a real threat to public order.
The government is already trying to sort out a dispute over immigration with the 28-country bloc without annulling a treaty that would cost the Swiss economy an estimated 32 billion francs ($32 billion) a year. While an agreement to limit the number of EU newcomers seemed to have inched closer last year, the referendum on expelling criminals could've thwarted negotiations.
Supporters, whose "yes" campaign posters featured a white sheep kicking a black sheep off a Swiss flag, had argued the measure was warranted to fight crime and enforce the will of the electorate after the government allegedly dragged its heels in implementing a 2010 initiative to deport criminals. Roughly three-quarters of the people in prison or in detention in Switzerland aren't citizens, official statistics show.
A campaign billboard by opponents showing a Swiss flag morphing into a Nazi swastika was removed from Zurich's main train station following protests.
The government is now set to implement the 2010 referendum to expel foreigners with a clause that allows judges to refrain from deportations in exceptional circumstances. Members of the SVP had opposed that leniency provision, saying it contravened the will of the electorate.
"Popular initiatives are always though," said Toni Brunner, president of the SVP and a member of parliament's lower house. "We faced massive opposition."
(
Updates with official results in second paragraph, justice minister comment in third.
)
Before it's here, it's on the Bloomberg Terminal.
LEARN MORE