Photographer: Ian Waldie/Bloomberg
RBA Cut Bets Build as Aussie Gains Combine With Worst Wage Rises
by
Markets pricing in 1.5 percent cash rate within 12 months

Policy meeting comes days after governor attends G-20 talks
Australian wage rises are the smallest on record, jobs growth has evaporated and firms plan to cut investment. Add a stronger currency and global calls for stimulus and pressure is clearly building for interest-rate cuts.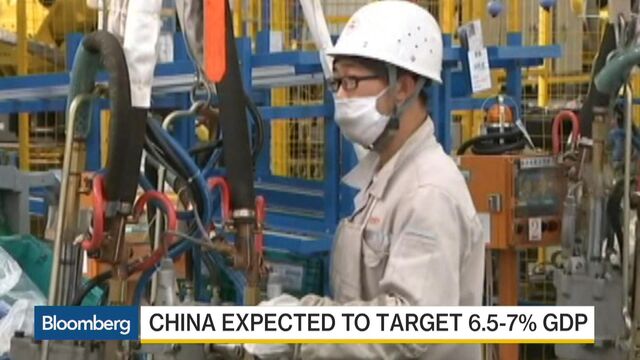 Money markets reckon that while Reserve Bank Governor Glenn Stevens might extend his rate pause at the next policy meeting Tuesday he'll relent soon. Traders are pricing in one reduction by August and a better than even chance the cash rate will be 1.5 percent in a year's time, from its current record low of 2 percent.
"Despite the Reserve Bank of Australia's considerable reluctance to cut the cash rate further, we expect they may have to around mid-year," said Paul Bloxham, chief Australia economist at HSBC Holdings Plc who previously worked at the bank. "Another bout of 'jawboning' the currency lower by the governor may be just around the corner."
The outlook is a reversal from late last year, when the record-low cash rate and a falling Aussie dollar lifted business conditions and fueled hiring in tourism and education that suggested the economy had turned the corner. But in the past week alone, the collapse of a major retailer has cost about 2,500 jobs and crumbling commodity prices prompted a major miner to announce plans to fire 1,750 people. Meanwhile, the currency has risen about 3 percent since the RBA's previous meeting.
Negative Rates
The international backdrop has deteriorated, too. Volatility in Chinese markets threatens household confidence in Australia because of the economy's heavy dependence on trade with the Asian nation. At the same time, disinflation or deflation in much of the developed world has prompted central banks to set negative interest rates, enhancing the attractiveness of Australia's benchmark rates.
Since the RBA's Feb. 2 meeting, the flow of domestic data has been almost uniformly negative: retail sales stagnated, business conditions deteriorated and unemployment rose back to 6 percent as the economy unexpectedly shed jobs.
Data today showed a private gauge of inflation recorded a negative reading in February, and inventories and company profits for the fourth quarter came in below expectations.
The outlook for employment also worsened as electronics retailer Dick Smith Holdings Ltd. announced Thursday it was shutting 301 stores nationwide with the loss of almost 2,500 jobs. Earlier that day South32 Ltd., the world's biggest manganese producer, said it would cut its workforce by at least 1,750 after reporting a 94 percent drop in first-half earnings following the collapse in commodity prices.
Investment Slump
The RBA had hoped non-mining investment would pick up to replace an unwinding of the resources boom. Yet data released Thursday showed firms are planning to reduce their spending by 19 percent in the fiscal year starting July 1, the biggest fall on record.

Weak wages growth, too, suggest consumer spending may struggle to support economic growth. Workers' pay rose by a record-low 2.2 percent in the fourth quarter from a year earlier.
Global Phenomenon
Australia's sluggish wage growth is part of a global phenomenon that is keeping inflation historically weak in many developed economies. It's one of the reasons that international bodies are calling on major economies to find ways to further stimulate growth to bring inflation back toward central bank targets.
Finance chiefs from the world's top economies committed their governments to doing more to boost global growth amid mounting concerns over the potency of monetary policy, after a two-day Group of 20 meeting in Shanghai, which Stevens attended. The world's biggest economies "will use fiscal policy flexibly to strengthen growth, job creation and confidence," acknowledging that "monetary policy alone cannot lead to balanced growth," according to a statement from the G-20.
Before it's here, it's on the Bloomberg Terminal.
LEARN MORE