Malaysia Ruling Party Suspends Deputy as Najib Cements Hold
by and
Najib removed Muhyiddin as deputy premier from Cabinet in July

Muhyiddin had asked Najib to step down pending investigations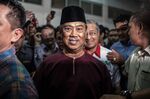 Malaysia's ruling party suspended its second-in-command Muhyiddin Yassin for undermining the organization in his quest to oust Prime Minister Najib Razak, the latest indication of the premier strengthening his grip on power after months of political turmoil.
Muhyiddin's suspension as deputy president of the United Malays National Organisation will be in effect until the next party elections, Secretary-General Tengku Adnan Tengku Mansor told reporters in Kuala Lumpur. UMNO's Supreme Council deliberated for two hours over the decision at a meeting Friday, he said. The next party elections are due by 2018.
Najib has weathered months of attacks from former leader Mahathir Mohamad and Muhyiddin over a political donations scandal and amid concerns of the finances of a troubled government investment company. Muhyiddin's removal, coupled with the replacement of Mahathir's son and fellow critic as chief minister of a northern state earlier this month, indicates Najib has further coalesced his hold within UMNO, where he retains the support of the bulk of divisional chiefs.
In December, Muhyiddin called for term limits on UMNO's presidency, held by Najib, saying "absolute power corrupts." There are no such restrictions currently. Najib should leave his position as prime minister until investigations on the donations are completed, Muhyiddin also said then.
'Proper Channel'
"As a party deputy president and according to the party's constitution, he was supposed to assist the president," Adnan said of Muhyiddin on Friday. "Whatever views he had should have been done through the proper channel. Overall, he had undermined the party and its constitution."
Muhyiddin said on Saturday he had expected the suspension and would continue to speak up for the truth and press for institutional reforms. Muhyiddin said he wasn't given the chance to defend himself before he was suspended, the Star reported on its website Sunday.
"In the six years that I held the post of deputy president, I never neglected my duties and responsibilities to support the president," Muhyiddin said on his Facebook page. "Does supporting the president mean blindly backing him including defending his wrongdoing? I do not think so."
Disciplinary Board
Under Article 20 of UMNO's constitution, all members must adhere to its code of ethics, maintain the good name of the party, keep its secrets, and comply and respect its decisions. Those who violate the laws will be referred to the disciplinary board which may issue a warning, prohibit the member from running for any party positions or even dismiss him or her from UMNO.
Until Friday, Muhyiddin had remained UMNO deputy president after being dumped as deputy prime minister in July. The successor of his Cabinet position and UMNO Vice President Zahid Hamidi will take over the duties of the deputy president without assuming the position, Adnan said.
Attorney General Mohamed Apandi Ali last month closed the door on the graft investigation into Najib, clearing him of wrongdoing over a "personal contribution" of $681 million from the Saudi Arabian royal family in early 2013 that appeared in his personal bank accounts. The premier returned $620 million in August 2013 that were not utilized, Apandi said. He did not specify what the remainder of the funds were used for.
Najib has consistently denied any wrongdoing.
Before it's here, it's on the Bloomberg Terminal.
LEARN MORE