Japan's Stocks Rout Provides Gift to Frustrated Shareholders
by and
Buybacks and dividends seen reaching record levels for year

Critics of corporate malaise see trend as welcome sign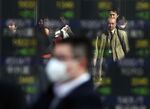 The rout in Japanese stocks is, at least in one sense, lining the pockets of shareholders.
The 15 percent drop in the Topix index this year through last week has increased the appeal of share buybacks, with companies projected to spend a record 5.9 trillion yen ($52.3 billion) in the fiscal year ending March 31, according to one estimate. Another reading shows that dividends are also on the rise, with payouts set to hit 9.9 trillion yen this fiscal year, the highest ever.
The trend is being cheered as progress by critics frustrated by Japan's corporate culture. The nation's 20-year stock market malaise until Prime Minister Shinzo Abe took power had been partly blamed on management's poor record in rewarding shareholders. At the same time, such strategies can provide a quick jolt to stocks that dropped to the lowest levels in more than a year. SoftBank Group Corp. saw its market value climb by 1.4 trillion yen after announcing its buyback.
"It's been years since shares have fallen this quickly, so for companies that already had the mettle to carry out buybacks, now is a good chance," said Masahiro Suzuki, analyst at Daiwa Securities Group Inc. "This year is also being called the first year of corporate governance. That's going to make companies more aggressive with things like share buybacks as they try to increase return-on-equity."

U.S. corporate executives have been lambasted for spending too much on buybacks to prop up shares and not enough on investing in its business. In Japan, any effort to appease shareholders is seen as a welcome sign. For years, ROE for companies in Japan languished at half the global average, dividend payouts remained among the lowest in the world and share buybacks were almost non-existent in an atmosphere where friendly companies holding shares in each other took precedence.
Abe swept to power in 2012 on a platform of strengthening the economy, citing improving corporate governance as one of his key growth strategies. Enacting codes to push previously silent investors into asking for higher returns, pressing companies to appoint independent directors and asking firms to justify cross-shareholdings helped increase ROE on the Topix to 7.74 percent at the end of 2015 from 5.7 percent three years ago.
"Japan is starting from a point of very limited payouts to shareholders," said Peter Tasker, founding partner of hedge fund Arcus Investment Ltd. "Abe has created an atmosphere that has made companies feel that returning money to shareholder is a progressive thing to do. This is what you want to happen when times are tough."
Plunging stock prices have provided an incentive. The Topix's slide this year left shares trading at their cheapest relative to estimated earnings in about three and a half years, and more than half the stocks on the measure are still trading below the value of their assets.
Also helping is the Bank of Japan's adoption of negative interest rates, say analysts, as it presses companies to make efficient use of money instead of keeping it in zero-interest deposits. Companies held a record 247 trillion yen in cash at the end of September, the latest data shows.
"Japan is going to catch up to U.S. standards quickly, thanks to negative rates," said Mitsushige Akino, executive officer at Ichiyoshi Asset Management Co. in Tokyo.
SoftBank Surges
Japanese corporations are likely to spend 5.9 trillion yen buying back shares in the current fiscal year, and 7.5 trillion yen in the 12 months ending March 2017, according to Goldman Sachs Group Inc. About 100 firms have announced buybacks since the turn of the year, with the total value up 170 percent on last year, the brokerage said. Dividend payouts are likely to rise to 9.9 trillion yen this fiscal year, Mitsubishi UFG Morgan Stanley Securities Co. said in a report on Feb. 15.
SoftBank is perhaps the most prominent company jumping on the bandwagon. After shares tumbled almost 30 percent this year, the telecoms giant announced a record 500 billion yen buyback plan on Feb. 15, and the stock has recovered 27 percent since.
Rival NTT Docomo Inc., which released a 500 billion yen buyback plan on Jan. 29 after shares had lost about 10 percent from its peak last year, surged as much as 14 percent after the announcement. Nissan Motor Co. jumped as much as 12 percent on Monday and closed 5.5 percent higher after saying it would buy back 400 billion yen worth of shares in its biggest buyback ever. Nippon Steel & Sumitomo Metal Corp. said it plans to pay 15 yen in full-year dividends, four times higher than a year ago.
Japanese companies still have a lot of ground to make up. Arcus's Tasker estimates that the nation's dividend and buyback payout ratio amounts to about 40 percent of earnings now, compared with about 60 percent in Europe and over 100 percent in the U.S. The buyback yield in Japan is 0.9 percent, compared with 2.8 percent in the U.S., according to Goldman Sachs.
"While we see little prospect of all Japanese firms targeting shareholder returns on par with U.S. companies in the near term, we expect investors to demand higher returns given the significant gap," Goldman Sachs strategists led by Kathy Matsui wrote in a report on Feb. 24.
Tasker agrees, seeing the recent moves as an early sign of more change to come. "We have a different system now where shareholders have become more important," he said. "I'm optimistic."
Before it's here, it's on the Bloomberg Terminal.
LEARN MORE