Hungarian Premier Orban Lashes Out Against EU's Refugee Policy
Edith Balazs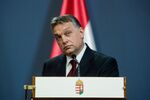 The European Union's manner of tackling the immigration crisis is absurd, the leaders of the the bloc lack the "will to defend Europe's borders," Hungarian Prime Minister Viktor Orban said in a speech in Budapest on Sunday. "What we see right now is as if the EU is the captain of a sinking ship busy designating non-smoking life boats," Orban said.
QuickTake Europe's Refugee Crisis
Orban, who called a referendum on the bloc's mandatory refugee quotas, is preparing to boost Hungary's defenses along all its borders in the face of an expected swell in the number of refugees heading for Europe.
Before it's here, it's on the Bloomberg Terminal.
LEARN MORE