Economy Remains No. 1 Focus for Rouhani Emboldened by Polls
by and
Moderate candidates make gains in parliament, clerical body

Rouhani's relationship with supreme leader remains priority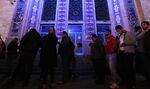 President Hassan Rouhani and his allies in Iran's new parliament will set their sights on rebuilding the economy rather than risking the ire of hard-liners by advancing more liberal political and social change.
Reformist and moderate candidates supportive of Rouhani's plan to overhaul the sanctions-damaged economy with the help of foreign investment were on course for their best showing in more than a decade after the Feb. 26 election, according to state-run media. Voters brought to an end the overwhelming majority in the 290-member house enjoyed by conservatives who remain deeply suspicious of efforts to develop ties with the West.

With economic recovery hinging on overseas investors, Rouhani's government is seeking to pass laws that would attract international oil companies and make doing business in Iran easier for foreigners. A focus on loosening political and civil liberties would risk a backlash from rivals who control powerful conservative institutions. It may also face resistance from Rouhani's boss: Supreme Leader Ali Khamenei.
"It's very important to remember that everything will be down to his relationship with the supreme leader," said Saeed Laylaz, an Iranian economist who was an adviser to former reformist President Mohammad Khatami. "Mr. Rouhani's relationship with Mr. Khamenei is a million times more important than the new shape of the parliament."
Next Election
After securing a landmark nuclear accord with world powers that lifted a raft of sanctions, Rouhani is now seeking to translate his diplomatic coup into benefits for Iranians before next year's presidential election, when he might seek a second term. Presenting a five-year development plan to the outgoing parliament in January, Rouhani said the government is targeting as much as $50 billion in investment a year to boost growth and create jobs.
Key to this will be upgrading energy infrastructure and investing in exploration to boost output of oil and gas. To achieve that, the Oil Ministry has devised new contracts linking fees paid to international companies to oil-price movements. Some hard-line politicians have vowed to oppose the plan, saying it amounts to squandering national wealth.
"More attractive packages for foreign companies could cause some issues with constitutional interpretations which may then create challenges in parliament," said Ellie Geranmayeh, Middle East and North Africa policy fellow at the European Council on Foreign Relations in London.
Iranian lawmakers are aligned with blocs or factions, rather than being members of distinct political parties. The two biggest groupings are known as the Reformist and Principlist camps, the latter comprised of conservatives who generally oppose closer ties with the U.S. and its allies.
Results reported by local media showed a reformist-moderate alliance running almost head-to-head with the previously dominant conservatives. All 30 seats reserved for Tehran in parliament were won by lawmakers representing the tie-up, according to the Interior Ministry. It's the best performance by moderate politicians in more than a decade, when allies of then-President Khatami held a majority in parliament, or Majlis. Back then, hard-liners who controlled institutions such as the judiciary reacted by closing down dozens of liberal publications and weakening the president's authority.
Economic Plight
Khatami was succeeded by Mahmoud Ahmadinejad, a former mayor of Tehran whose reign was marred by hyperinflation and economic hardship as Iran reeled under international sanctions targeting its nuclear program. So when preliminary results showed Rouhani's allies in control of the capital's 30 seats, reformists wasted no time in celebrating.
"Dear citizens! Attention please, attention please, Tehran is now free!" read one message posted on social media. The reformist Aftab newspaper heralded "the soft breeze of victory" in a headline on its front page on Sunday.
"No one can resist the will of a majority and whomever is unwanted by the people must step aside," former President Ali Akbar Hashemi Rafsanjani, an ally of Rouhani and one of the early founders of the Islamic Republic, said on Twitter.
A list headed by Rouhani and Rafsanjani also took a lead in a separate vote for the Assembly of Experts, a clerical body tasked with selecting the supreme leader when the position becomes vacant. Renowned hard-line clerics Mohammad Taghi Mesbah Yazdi and Mohammad Yazdi, lost their seats. Both have opposed reforms.
For Rouhani, a key challenge will be balancing demands from reformists eager to push for more political and social freedom, and conservative opposition.
"Figures such as the key leaders of the reformist bloc who have now been more empowered within the parliament could push Rouhani toward a reform agenda that's not necessarily the administration's priority," said Geranmayeh.
Global Arrogance
On Sunday, Khamenei hinted that parliamentary results shouldn't be interpreted as a mandate to ignore some Iranians' deep misgivings of world powers. "Progress doesn't mean getting dissolved in the global arrogance," he said, a term that refers to the U.S. Parliament "will have heavy responsibilities when it comes to this," he said.
Unlike with Khatami, Rouhani's ties with the supreme leader helped advance his number one priority -- sealing the nuclear deal over more than two years of talks. That remains crucial to the future of his presidency, said Laylaz.
Rouhani "has been successful in managing the relationship with Mr Khamenei. He did a lot of jobs that at first seemed impossible," he said. "Fortunately there is cooperation between them and without that cooperation the president couldn't do anything."
Before it's here, it's on the Bloomberg Terminal.
LEARN MORE