Cruz Says Trump May Be 'Unstoppable' With Big Super Tuesday Wins
By and
Texas senator's home state among nominating contests this week

Billionaire's endorsement by Christie called blow to Rubio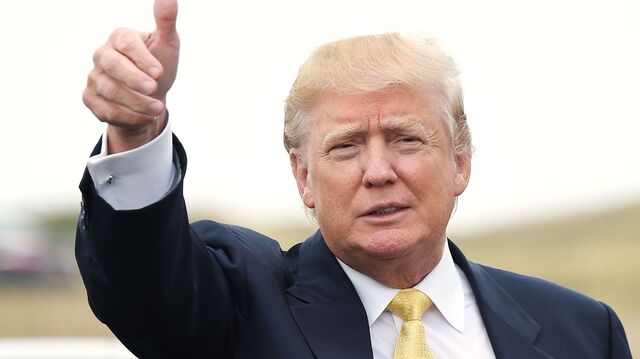 Texas Senator Ted Cruz said billionaire real estate developer Donald Trump may all but lock up the Republican presidential nomination if he wins big in the slate of 11 state primary or caucus contests this Tuesday.
"There is no doubt that if Donald steamrolls through Super Tuesday, wins everywhere with big margins, that he may well be unstoppable," Cruz said on CBS's "Face the Nation," according to a transcript released Sunday.
QuickTake How the U.S. Elects Its Presidents
"I don't think that will happen," Cruz said, urging voters to turn to him to defeat Trump and nominate a "proven conservative, which is what it's going to take to beat" Democrat Hillary Clinton. She won in a landslide Saturday in South Carolina's primary over Bernie Sanders and now seems more likely to clinch her party's nomination.
Trump, former host of NBC's "The Apprentice," has won contests in New Hampshire, South Carolina and Nevada since finishing second to Cruz in Iowa's first-in-the-nation caucuses on Feb. 1. Heading into the delegate-rich day of elections, Cruz and Senator Marco Rubio of Florida have positioned themselves as best positioned to head off Trump, whom they say doesn't represent Republican ideology.
Wild-Card President
"If Donald becomes president, who the heck knows what he would do?" Cruz said separately on CNN's "State of the Union." "Even Donald doesn't know what he would do."
Cruz said, though, that he would support Trump if he were the Republican nominee for president. So did Ohio Governor John Kasich, who also appeared on CNN.
Kasich said Trump is "going to win probably all" of the contests being held on Super Tuesday and called on any candidates that lose to the real estate developer on their respective home turf to drop out of the race.
Home State Contests
"If any of these people can't win their own states, they probably ought to get out," the Ohio governor said. "We ought to consolidate the race."
Among the Republican nominating contests on Super Tuesday are Cruz's home state of Texas, where he holds a lead over Trump, according to recent opinion polls. Ohio holds
its primary on March 15, and Kasich made clear he'd be in the race until then.
"If I don't win Ohio, then it's time to call it over," he said.
Cruz told CBS that Chris Christie's endorsement of Trump on Feb. 26, two weeks after the New Jersey governor suspended his own campaign for the White House, wasn't a big surprise and was a blow to Rubio's campaign.
Interviewed on CNN, Trump said he had "badly" wanted Christie's backing. "He's the one endorsement I really wanted," Trump said, adding, "I have many others coming."
'Political Opportunism'
Meg Whitman, CEO of Hewlett Packard Enterprise Co., who had backed Christie's White House bid, on Sunday called the governor's endorsement of Trump "an astonishing display of political opportunism," adding that Trump was "unfit to be president," according to a statement first reported by NBC.
The billionaire on Sunday passed up an opportunity to condemn former Ku Klux Klan leader David Duke of Louisiana and other white supremacists who have expressed support for his 2016 presidential bid.
"I know nothing about David Duke," Trump said on "State of the Union." "I know nothing about white supremacists.
Trump held a substantial lead last week in the southern region where Republican voters have their say in primaries on March 1. An online Bloomberg Politics poll released Feb. 25 showed Trump backed by 37 percent of likely Republican presidential primary voters in the seven states surveyed, while Rubio and Cruz were tied at 20 percent.