Jockeying Begins as China's State Firms Brace for Shakeup
Bloomberg News
SOEs said to seek talks with regulators over categorization

Discussions said to intensify at this week's NPC gatherings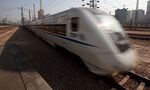 About three years ago, one of China's richest men couldn't believe he was offered a large plot of floor space in London along the River Thames for 900 pounds ($1,260) a square meter, less than half one would pay in Beijing, as long as he paid the deposit in cash within seven days.
He did it in three.
Today, in the Nine Elms area where billionaire Wang Jianlin's Dalian Wanda Group Co. is developing a five-star hotel and a residential skyscraper, the U.S. embassy is moving in and homebuilders are seeking to sell homes at about 14,350 pounds a square meter.
Wang, who shared the anecdote with Oxford University students this month, credited his ability to pull off that deal to something his business isn't: a bloated Chinese state-owned enterprise needing layers of approvals. The episode helps illustrate why President Xi Jinping is seeking to overhaul the $18 trillion SOE sector to revive an economy that's growing at the slowest pace in a quarter century.
"Decision making needs to be swift," Wang, who vies with Alibaba Group Holding Ltd.'s Jack Ma for the top wealth ranking among China's tycoons, said at the Oxford event. "At state-owned enterprises, many managers are afraid of taking responsibility, resulting in delays in decisions."

China announced last year it would kick off the process of overhauling state companies by categorizing them into commercial or public-service entities, a move that's prompted many SOEs to seek discussions with regulators over how they should be classified, according to four people familiar with the matter. These talks are bound to heat up in Beijing this week at the National People's Congress, the Chinese government's biggest gathering of the year, according to three of the people.
For China's many SOEs -- JPMorgan Chase & Co. has estimated there are more than 150,000 of them -- the stakes are high. Being branded as commercial could lead to higher salaries in some sectors and less government meddling but also deprive a company of cheap financing and state protection in the event business sours, as is increasingly the case in China's slowing economy.
"This categorization will impact SOEs and their business models because commercial companies will face higher pressures to make profits and public ones will need to focus on social benefits," said Zhou Jingtong, Beijing-based director of macroeconomic research at Bank of China Ltd. "It will also influence investor decisions when they buy SOE bonds and shares because commercial companies will be riskier options."
The likelihood of government support is already factored in for some SOEs' debt ratings. For example, Standard & Poor's rates Aluminum Corp. of China Ltd., China Railway Group Ltd., China General Nuclear Power Corp. and Citic Group Corp. as investment-grade issuers although each would be rated junk purely based on their financials, according to a S&P report in January.
The idea behind the dual categorization, announced in September, is for the government to control public-interest companies and turn the rest into more market-oriented firms by loosening oversight and making them accountable for their performance. Most SOEs will be categorized as commercial, the people familiar said.
The government has given some guidelines on how it will decide. For example, to qualify as a non-commercial company, its business would need to serve the public and the government would control the entity's core operations and prices of "necessary products and services."
While that makes companies such as China General Nuclear, which manages nuclear power stations, obvious candidates for being classified as public interest companies and carmaker Dongfeng Motor Corp. for being categorized as commercial, the choice becomes less clear for companies in industries such as oil and telecommunications.

The government will give special exemptions to some SOEs that become categorized as commercial but have businesses of strategic national interests, according to the people. The State-owned Assets Supervision and Administration Commission, which oversees SOEs, didn't respond to a faxed request to comment.
Sinopharm Group Co., China's biggest drug distributor, is among SOEs making preparations to be categorized as commercial and the company would benefit from further liberalization in the drug market, according to a person familiar with the matter. Asked to comment, Sinopharm said in an e-mail it's still awaiting final approval from SASAC on its reform proposal to experiment with mixed ownership, which would help the distributor improve as a company.
Though individual cases vary, SOEs as a whole are ripe for reform. While they generated profits of 2.3 trillion yuan ($352 billion) in 2015 -- more than South Africa's entire economy -- that's still down 6.7 percent from a year earlier and those returns were only 1.9 percent of the 119.2 trillion yuan in assets they held, according SASAC figures.
Industrial profits at SOEs have also fallen for 14 straight months, while the last time earnings declined in the private sector was more than three years ago. SOEs are also less adept than private companies in cutting debt, according to research at the Chinese University of Hong Kong.
The last time the government overhauled its SOEs, when then-Premier Zhu Rongji spearheaded the campaign in the 1990s, some 60,000 firms were closed and 40 million workers lost their jobs, according to government data. Still, the purge paved the way for China's economy pick up and see years of 10-percent-plus growth.
"I'm more interested in companies that can survive and profit without government support," said Liang Weihong, a Beijing-based fund manager at Huashang Fund Management Co. Ltd. "SOEs relying on government subsidies will face many more uncertainties compared with commercial ones."
— With assistance by Tian Chen, Linly Lin, Keith Zhai, Hui Li, Tian Ying, Dingmin Zhang, and Steven Yang
Before it's here, it's on the Bloomberg Terminal.
LEARN MORE