Dodging Critics and Soothing Fears, China Meets Its G-20 Goals
Bloomberg News
China wins backing for discussion of SDR use, green finance

Yuan policy goes uncriticized; emerging-market strength touted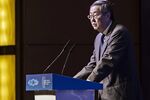 China pulled off a defensive win at the Shanghai Group of 20 meeting of global finance leaders after months of angst abroad over its economic and policy direction.
For starters, there was no specific concern over China in the communique released late Saturday. Indeed, the G-20 said that "growth in key emerging market economies remains strong." Though concerns about China's yuan policy have roiled markets repeatedly since an August devaluation, the statement had only generic reference to refraining from competitive devaluations.
China won support for its goals for the G-20 meeting, such as examining broader use of the International Monetary Fund's reserve-currency unit -- to which the yuan will be added this year. A green finance study group has also been established after strong backing from China, which is looking for ways to clean up its polluted rivers and smoggy skies.
Arguably the biggest win: following calls round the world for China to improve communication on its policies and intentions, its officials won kudos for their remarks. U.S. Treasury Secretary Jacob J. Lew said China communicated its policies well at the two-day gathering. And Asian stocks rallied when, hours before the first G-20 session, Central bank Governor Zhou Xiaochuan highlighted scope for further actions if needed, and co-host Lou Jiwei flagged additional fiscal firepower is on the way.
Defensive Win
"At least you could say China has won defensively -- but it's still too early to tell whether one can call this a victory," said Lu Zhengwei, chief economist at Industrial Bank Co. Ltd. in Shanghai.
The communique's embrace of structural reforms, infrastructure investment and acknowledgment of the limitations of monetary stimulus reflected the host nation's own policy views.
Premier Li Keqiang, speaking in a pre-recorded video shown Friday, said quantitative easing policies can't remove structural obstacles to growth and may lead to negative spillovers. The focus of G-20 members should remain on structural reforms, he said.
Policy Stance
"China's monetary policy stance is fairly neutral," in contrast to negative interest rates seen elsewhere, said James Laurenceson, deputy director of the Australia-China Relations Institute at the University of Technology in Sydney. "It has been implementing fiscal stimulus and is now signaling that more is on the way -- rather than looser monetary policy. In other words, China is doing exactly what the IMF and OECD wishes higher-income countries would do."
As with other G-20 members, though, implementation of China's commitments could be thorny. Fiscal stimulus plans will run up against the headwind of constricted finances among local Chinese authorities. And reforms confront vested interests in keeping China's behemoth, indebted state-owned enterprises away from restructuring.
The next test for China's leaders come when they gather in Beijing for their annual National People's Congress, starting March 5. Officials are anticipated to unveil a growth target of a range of 6.5 percent to 7 percent for 2016, and discuss plans to cut overcapacity and boost labor mobility.
'Serene' Mood
At the G-20, Chinese policy makers were reassuring, and the mood of the gathering was "serene," Pierre Moscovici, the European Commission's head of economic and financial affairs, told reporters Saturday.
The G-20's tasking of a study group to identify institutional and market barriers to green finance matched the interest of Chinese officials including the central bank research department's chief economist, Ma Jun, who has championed improved funding of environmentally sustainable technologies and projects. The study group will also be charged with developing options on mobilizing private capital for green investment.
"The issue has always needed a more solid platform for discussion," said Industrial Bank's Lu. "It's a breakthrough that they can include this topic when China is hosting the G-20."
— With assistance by Kevin Hamlin
Before it's here, it's on the Bloomberg Terminal.
LEARN MORE