pursuits
Surge Pricing at Disneyland Could Boost Ticket Costs by 20%
By
Florida, California locations adjust cost of single-day ticket

Entry for weekdays during school year to get price cut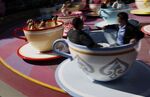 Walt Disney Co. is raising the cost to visit its U.S. theme parks like Disneyland as much as 20 percent during the busiest times of year and lowering them on typically slow days at its California resorts.
The six parks in Orlando, Florida, and Anaheim, California, are shifting to a policy that charges visitors different prices based on anticipated demand, with weekdays during the school year much cheaper than holidays. Previously, the parks charged the same price for a one-day pass any time of year.
The move is designed to help manage traffic at the parks, which had record visits in the final three months of 2015. It is also likely to boost total revenue since most visitors will pay more for their tickets. Disney said the majority of price increases are in line with previous hikes.
The company's resorts division reported $981 million in operating income for the three months ending Jan. 2, a 22 percent increase from a year earlier. Domestic attendance climbed 10 percent to a record, Disney said.
Regular, Peak
At the company's Disneyland and California Adventure parks in Anaheim, "regular" single-day adult ticket prices, which will be offered for about half of the year, will climb to $105 per day from $99 currently. "Peak" days, typically holiday periods and July weekends, will cost $119. The "value" ticket will fall to $95 from $99 currently. Value periods, mostly weekdays when school is in session, will account for 83 days this year.
Adult tickets for the Magic Kingdom, Disney's flagship park in Orlando, will rise to $124 a day for peak periods, up from $105 presently. Tickets for the Epcot, Hollywood Studios and Animal Kingdom resorts will rise to $114 on peak days, from $97 currently. Prices aren't rising at the four Florida parks during the value days.
The price increases go into effect Sunday.
Multiday passes will get a typical increase, while season passes won't change since they were increased in October, Disney said.
"The demand for our theme parks continues to grow, particularly during peak periods," the company said in a statement. "In addition to expanding our parks, we are adopting seasonal pricing on our one-day ticket to help better spread visitation throughout the year. Multi-day tickets, annual passes and visiting during non-peak periods also provide our guests with options and savings."
Theme-park operators have been investing in new attractions that increase attendance, and Disney isn't the first to use a variable pricing model to better manage demand in the most popular days of the year. Universal Studios Hollywood introduced an online ticket system earlier this month that allows savings of as much as $20 off on non-peak days, compared with the standard $95 admission.
Disney parks have been enjoying more visits in part due to a 60th anniversary of celebration that began last year at Disneyland. Events tied to December's release of "Star Wars: The Force Awakens" and the animated hit "Frozen" have also lured fans.
Before it's here, it's on the Bloomberg Terminal.
LEARN MORE