Buffett Seeks More Takeovers, Likens Precision's CEO to Da Vinci
by , , and
Donegan will make many more acquisitions, billionaire CEO says

Investments offer source of funds for `elephant' deals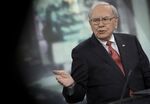 Warren Buffett is already counting on his newest deputy to pursue takeovers.
Just weeks after completing the purchase of Precision Castparts Corp., Buffett told shareholders Saturday that he expects the manufacturing company's chief executive officer, Mark Donegan, to keep up his buying streak.
"In building his business, Mark has made many acquisitions and will make more," Buffett said in his annual letter to investors of his Berkshire Hathaway Inc. "We look forward to having him deploy Berkshire's capital."

While Buffett snags most of the attention for his megadeals -- like the buyout of Precision Castparts -- the comment is a reminder of how he's set up Berkshire to have multiple avenues for reinvestment. He increasingly relies on deputies like the energy unit's Greg Abel and Lubrizol's James Hambrick to pursue their own deals.
As in years past, the billionaire highlighted how his deputies performed on the acquisition front. There were 29 so-called "bolt-on" deals last year, which will cost $634 million in aggregate, he wrote.
'Extraordinary Products'
The addition of Precision Castparts this year for about $32 billion in cash was one of Buffett's largest deals ever. The company manufactures metal industrial components for jet engines and power plants along with pipes for the oil and gas industry. The billionaire likened Donegan to Jacob Harpaz, who runs Iscar, the Berkshire subsidiary that makes cutting tools.
"The two men transform very ordinary raw materials into extraordinary products that are used by major manufacturers worldwide," Buffett wrote. "Each is the da Vinci of his craft."
Buffett, 85, often uses hunting references to describe his never-ending quest for deals. His largest transactions are "elephants." He and Berkshire Vice Chairman Charles Munger, 92, don "safari outfits" to search for potential buyouts. And excess funds generated by Berkshire's businesses help them reload their "elephant gun."
As Berkshire has grown, that firearm has gotten formidable. The company had more than $70 billion in cash at the end of December, a portion of which was subsequently used on the Precision Castparts transaction. Buffett said in August that the acquisition would probably keep him from doing another major deal for about a year.
Endless Gusher
Still, Berkshire doesn't pay a dividend and rarely repurchases shares, meaning that dividends from subsidiaries provide what Buffett calls an "endless gusher of cash." He suggested in Saturday's letter that Berkshire could sell stocks to raise more if needed.
"Having a huge portfolio of marketable securities gives us a stockpile of funds that can be tapped when an elephant-sized acquisition is offered to us," he wrote.
Before it's here, it's on the Bloomberg Terminal.
LEARN MORE