Zhou Speaks, Markets Calm and China's Policy Fog Begins to Lift
Bloomberg News
Central banker reassures global investors on economy and yuan

PBOC liquidity injections and lower market rates ease turmoil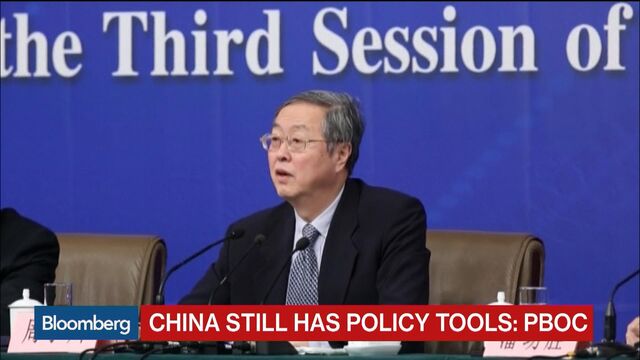 Throughout much of China's stock market storm in January, People's Bank of China Governor Zhou Xiaochuan seemed to have dropped out of sight. It fell to underlings to comment on the panic selling at the Shanghai and Shenzhen stock exchanges and widespread investor confusion about the government's strategy on the yuan, widening capital outflows and decelerating economic growth.

Then the longest-serving central banker among major economies sprung into action. In mid-February, Chinese markets were set to reopen after a week-long Lunar New Year holiday--and a painful selloff in major global markets. Zhou granted an interview with Caixin magazine published Feb. 13. In it, he argued there was no basis for continued yuan depreciation, there was no need to worry about a short-term decline in foreign-exchange reserves and he dismissed speculation that China planned to tighten capital controls.
China's stock and currency markets have been less volatile since, at least compared to the market upheavals of January. Zhou has repeatedly telegraphed reassuring signals that the economy remains strong, while the PBOC has been injecting liquidity and guiding borrowing costs lower as it shifts to a market-based monetary framework.
Zhou's charm offensive has reassured global investors that the Chinese government is at least trying to get out in front of its economic and financial challenges.
"Zhou's interview with Caixin was a major turning point," said Chen Zhiwu, a finance professor at Yale University in New Haven, Connecticut, and a former adviser to China's State Council. "They got the message that more communication is very much needed in order for China to avoid more turmoil."
Reform Advocate
Zhou has long been an advocate of financial-market reforms and wants to put China on a long-term path toward a free-floating yuan that would someday rival the U.S. dollar as the world's primary currency. His tenure as central bank governor since December 2002 has spanned the administrations of premiers Zhu Rongji, Wen Jiabao and now Li Keqiang.
He's a shrewd technocrat, a fluent English speaker and is the rare Chinese official who can explain his reforms clearly to both sophisticated global investors and the upper echelons of the Communist Party in Beijing. Zhou is above all else a survivor in the rough-and-tumble arena of Chinese politics.
His reemergence publicly is helping ease the confusion over a shock yuan devaluation in August that triggered global market turmoil, and sporadic moves more recently toward pricing the yuan against a basket of currencies.
All this begs the question: why did Zhou go into radio-silence mode to begin with?
Tactical Silence
One Zhou-watcher suggests the long period of silence may be tactical -- a reflection of the limitations of the central bank's clout in Chinese economic matters and the realities of power politics in Beijing. Recall that Zhou lacks the independence from government many of his global peers enjoy -- at least notionally.
"The problem with collective decision-making is it can take a while to get a consensus, including on what to say," says David Loevinger, a former China specialist at the U.S. Treasury and now an analyst at fund manager TCW Group Inc. in Los Angeles. "Perhaps in the fall they couldn't reach consensus. Markets react very quickly to events and you need to get a statement out there quickly. Zhou can't just write his statement."
Lately, though, the PBOC has been far more activist. The central bank Friday tweaked the description of its monetary policy stance to reflect a recent ramp-up in liquidity injections and moves to guide money market rates lower, with Zhou highlighting scope for further actions if needed.
"China still has some monetary policy space and multiple policy instruments to address possible downside risks," Zhou said at a conference in Shanghai, speaking hours before meeting his counterparts from the Group of 20 developed and emerging markets.
The earlier lack of communication from Zhou and other Chinese officials had triggered speculation that China would scale back reform plans and brought calls for greater clarity from figures including International Monetary Fund Managing Director Christine Lagarde and Goldman Sachs Group Inc. president Gary Cohn at a forum last month.
"We've all been telling the Chinese that more communication, clearer communication would be helpful for the market," Cohn said Friday in a Bloomberg Television interview in Shanghai. "Hopefully, the Chinese are trying to more clearly communicate what their initiatives are going to be."
Past Setbacks
Zhou's long career hasn't been without setbacks. His omission from the party's new Central Committee in late 2012 and a profile by the official China Securities Journal early the next year that reported he would step down suggested Zhou's tenure was over. Instead, the nation's retirement rules were circumvented to allow Zhou, now 68, to stay on.
Another bout of speculation erupted in September 2014, when reports said Zhou could be replaced as governor. Instead, he's forged ahead with a reform agenda that last year saw China win approval for reserve currency status of the yuan when the IMF agreed to include it in the fund's Special Drawing Rights basket, alongside the dollar, euro, pound and yen.
With Zhou well past the usual retirement age for Chinese officials, it's only a matter of time before more speculation surfaces over how long his tenure can last. He'll be a hard act to follow partly because his family background -- as the son of a prominent official of China's Communist Party -- gives him a sense of security that's not necessarily shared by many financial officials, says Yale's Chen.
"It's very, very important to have that kind of sense of security or otherwise one could not be independent enough," said Chen. "Zhou is in a very special situation and they are going to have a lot of difficulty to find someone like him after he retires."
Zhou's record of market-based reforms dates back years and has included liberalizing deposit and lending rates. Just this week, he oversaw the opening up of the nation's bond market to most types of foreign investors.
"It is still something of a minor miracle that despite many circumstances that could have dislodged a lesser man from his position, he managed to make it through some turbulent times and in fact appears to have increased his stature over time," said Eswar Prasad, a former chief of the IMF's China Division and now a professor at Cornell University in Ithaca, New York. "He has proven very astute in trying to figure out how to use indirect liberalization and opportunistic reforms."
— With assistance by Kevin Hamlin
Before it's here, it's on the Bloomberg Terminal.
LEARN MORE